Living in a college dorm is never easy, and no one ever said that it was. You have to juggle schoolwork with a job with a social life with personal interests. There is always something that is taking over your attention, and it is never easy to do it all when there is a busy and loud student body around you 24 / 7.
In Roommates, you have this lifestyle set up in a way that depicts what college life is like, at least somewhat. You are going to have to pick your character, pick your classes, pick your job, and pick your special little friend. It is a fun simulation game that is going to have invested in the story from start to finish.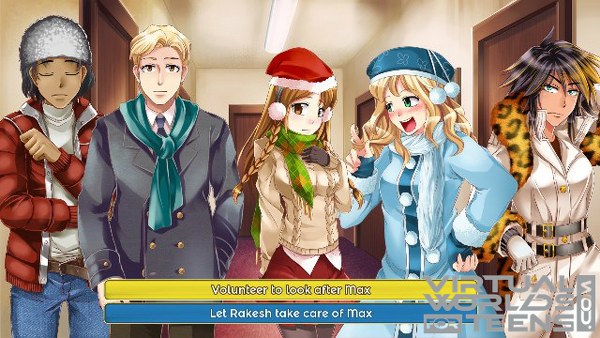 You are choosing between Anne and Max. Anne is a book smart girl who spends a lot of her time studying. She cares about her intelligence and she is the type of girl that everyone meets in college. There is also Max, the rocker boy. He dresses like a rocker would and he is always up for a fun time.
You are going to need to choose between the two, who have their own love interests waiting for them. For Anne, you have Dominic, Rakesh, Max, and Isabella, while you have Sally, Anne, Isabella, and Rakesh for Max. Whichever you decide, their fates are in your hands.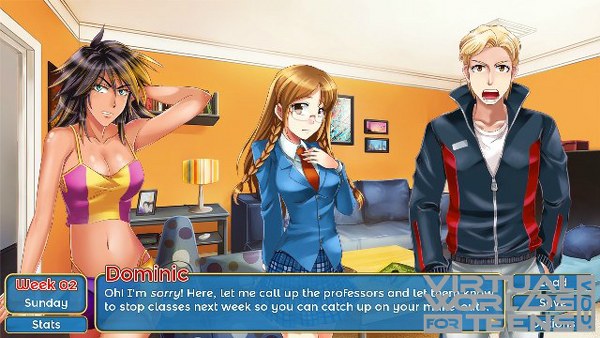 This game is not all about love and making out with other college students, of course. Roommates is going to have you doing quite a bit. As mentioned, you are going to need to choose your classes and your job in this game, which presents a bit of a challenge. You have to juggle everything, including your love life, successfully. While this may seem all fun and easy, it can be difficult at some points. Of course, its challenges do not take away from the entertainment, which stays strong throughout the entire game.
One of the most entertaining parts of Roommates is the story. Since this type of game heavily relies on the story, with selection and simulation being part of the appeal, you are going to want something good. The story here is light and comedic, sure to get a few good smiles and laughs out of you.
For more screenshots, click here.
You are going to move through the story quickly, choosing the options that best suit you, and have fun the entire time. Since there is a high replay factor in this game, with it having multiple options, you can enjoy this comedy over and over again.
What makes Roommates stand out from other dating sims is how broad of a game this is. The game covers 21 weeks, with multiple special events including spring break, winter break, a prisoner's dilemma scenario, and even a Halloween murder mystery. There is a lot of content to get through, and both Max and Anne have four different roommates with whom they can unlock the special endings. This means that for players who want to fully max out the game, there is a high replay value.
The entire appeal of Roommates is love and college. The anime type art is well made and the game is easy to play so most people interested in these games should find it interesting. It offers the type of experience that you expect out of dating simulation games, just with a few unique twists that a lot of these games seem to have. The story is the biggest appeal here, and it is definitely worth your time.
Watch more videos on their YouTube channel: Roommates on YouTube.
Sooo, did you think this game looks cool? If yes, Like!