Roblox combines both social networking and mini games to make one fun experience. The games on the site are not created by other developers, but by the players of Roblox themselves. That's right, you can create your own games on this site and share them too. Your imagination is the limit.
You can enjoy the games created by others and create games for others to enjoy, all while making new friends and socializing. This is an open ended browser-based MMO in which you can create imaginative worlds. There are no levels or goals. The goal, if you will, is to create awesome worlds and games.
This site relies on creativity and expression. The site is very much like a social network. There are groups to join, and you can add friends. The best aspect is that you can create your own place. This "place" can be a game with goals like a platformer, or a place to hang out like a club or bar.
You can play for free or pay the subscription and be a premium user. Free users can access places created by community members or make their own place. With a premium subscription, you can make more than one place and have access to other features. Creating detailed games on this site certainly isn't easy.
It takes some time to learn how use the editor and players must Lua, a scripting language to build these places. Anyone who has an interest in programming and computer languages will enjoy this aspect of the site. It can introduce concepts that will be useful later on when learning about actual computer programming.
The structures are made by creating building blocks and manipulating them by stretching them, duplicating them and copying them from the gallery. There are also scripts which can be used on the blocks to make more complex interactions possible with the structures. For example, you can create a special place that only certain users are allowed to enter. It's also a good idea to visit structures made by others to get ideas.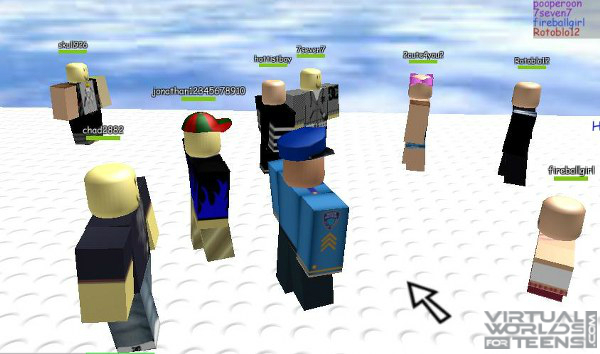 For more screenshots, click here.
You can communicate with others in this game. Younger users have the option of a safe chat mode to prevent any obscene material from being seen. But there is little inappropriate material to be seen on the site at all. The site also has a forum where users can seek help with any problems and get tips on building structures. There is also a save option which allows you to go back in time at any point. If anything goes wrong with your structure, you can go back to the previous point and start again.
The game has a wide appeal to many ages even though it was designed for ages 8-18. It is safe for younger users as it has the safe chat mode and parental log in option by which parents can check to see what their kids are doing. Older teens will enjoy the various ways to express their creativity and indulge in their interest in computers.
Roblox is free to play.
Play Roblox NowMore Games for Boys
Sooo, did you think this game looks cool? If yes, Like!