Rescreatu is where you go to create a character and play with virtual pets. It is a large and exciting virtual pet game with a lot to offer. From the various ways for you to earn more in game currency to how you can have fun with your pets, you are not going to find yourself bored at any moment. This gives you the experience that you want in this type of online game. When you start, make your own character and begin on your journey. Choose what he or she is and the home planet, then go see the rest of Rescreatu and the little creatures that inhabit it.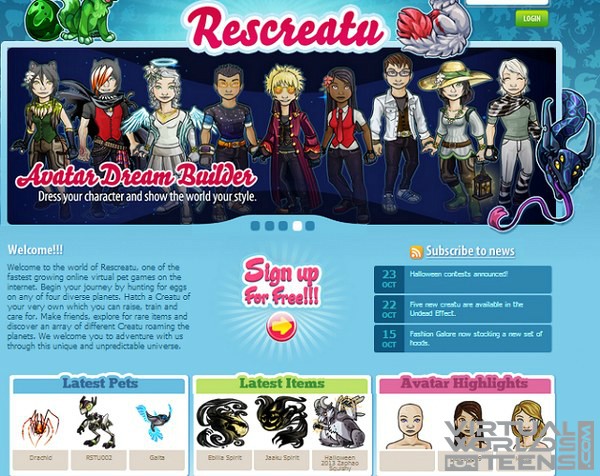 After your account is activated, create your character. You already chose a few of the appearance features when you made your account, and now is what you go a little further. You are going to choose between rancher and merchant, and you are going to choose the home planet. Figure out which one you like the most before deciding. Later on in Rescreatu, you can customize the character. There are numerous clothes and accessories available to help you personalize it. Make it look like you, how you want to look, or something fun. You can really let your creativity fly with how many items there are.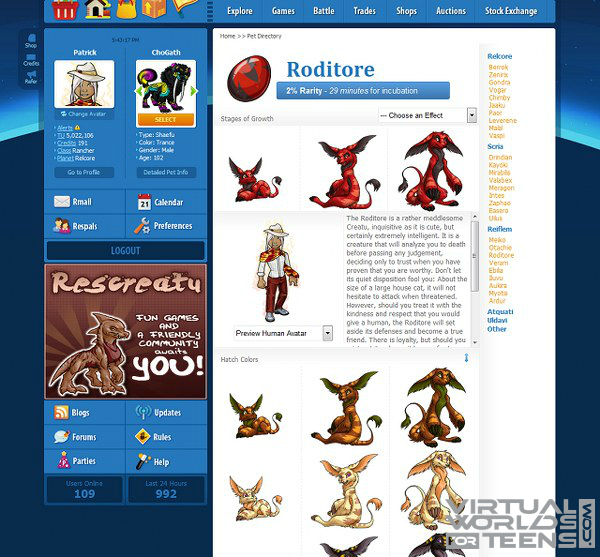 Since Rescreatu is a virtual pet game, you can expect there to be virtual pets. You are not going to be disappointed here, either. There are many available of all different looks, and the art is quite adorable. When you are ready to get your own, go to the Hatchery. You can hatch your very first pet and begin playing with it. After awhile, you will be able to get more and begin growing a collection of little virtual pets. Continue to get them until you are happy with what you have, or until you cannot get any more.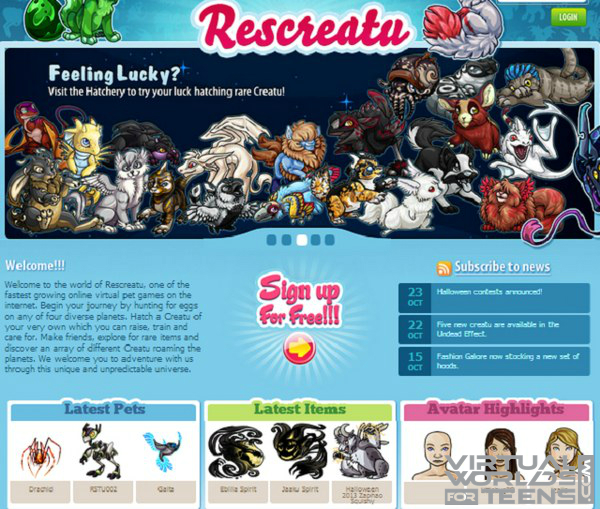 For more screenshots, click here.
In order to earn cash or have fun, you can explore Rescreatu and see all that there is to do. There are plenty of activities awaiting you here, so take advantage of them all. If you want to earn some cash, go to the games section. You can play some exciting games or you can use your mind and go with stocks, or do anything else that you want to do there. You can also look around the different worlds to find something fun activities, like fishing. This gives you the chance to earn more in game stuff and enjoy yourself.
Watch more videos on their YouTube channel: Rescreatu on YouTube.
Rescreatu is free to play.
Sooo, did you think this game looks cool? If yes, Like!