Fantastic visual novel puts you firmly in control as you attempt to work out a culprit's identity.
If you are among those who love losing themselves in the virtual world, you will love this game. RE: Alistair is a highly intuitive game in which the Alistair's character is Merui and her online and real worlds are clashing in a way that she definitely does not like. 
The game offers you numerous paths and options thanks to which you will never get bored. Easily, this game is among the best of the best visual novels.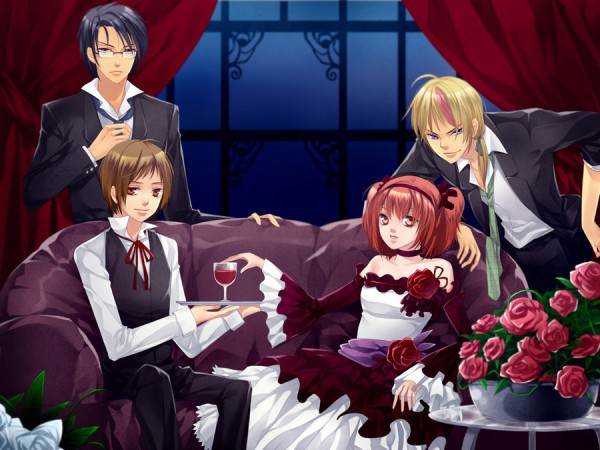 What happens is Merui Lucas, known as RuioftheSword online, is busy playing Rivenwell Online, which is her absolute favorite multiplayer game. Alistair is another player who is cunning and ends up stealing a very rare item from Merui. Merui wants revenge and is trying to find out who the assailant is. She soon finds out that the culprit actually goes to the same school as she does in real life.
Before she can find out soon, Alistair again plays the cards and discovers Merui's identity. Thus the taunting begins. Merui loses her temper and then bets with Alistair. The bet is that if she can find out who he is in 30 days, he should return her rare item to her.
This is where you come into the picture. You have to filter out all the boys in school to come up with three prime suspects. Then you should befriend each in order to find out more and hope that the culprit parts with his secret identity by mistake.
In building up profiles on each suspect, there are a plethora of different options and paths that you can take. New sets of dialogue and special scenes can be found depending on who you spend time with and what you say to them. It's possible to concentrate solely on one character for an entire playthrough, completely missing two other whole storylines.
For more screenshots, click here.
The game is highly engaging. It is so engaging that you will get lost in one character and completely forget the others in the game. Make sure you don't do that though! The game has so much to offer that even a few sessions are not enough. Depending on your decisions are the outcomes. There are a total of five endings to unearth in this game.
The game is not all about hanging out with people and chatting. You also have to study, watch TV, use the Internet, earn money, and shop based on your wishes. Remember that whatever you do will affect your statistics.
The game is free and you should definitely check it out, regardless of whether you are a fan of interactive stories.
Watch more videos on their YouTube channel: RE: Alistair on YouTube.
RE: Alistair is free to play. Once you've found the culprit and you think it's time for you to move on to another story, then we've got a list of Flirting Games here for you.
Sooo, did you think this game looks cool? If yes, Like!