Rail Nation tests your skills and mind while giving you a fun, engaging game. You are going to build your own rail company. Purchase trains, improve structures, and build out your rails to make your company successful. You are going to have to keep updating and upgrading, and keep building out. You are going to have to create the most amazing rails that anyone has ever seen. These are what will handle deliveries all across the nation and what will earn you a huge amount of money. Make sure you put the time, energy, and strategy into these so that they come out looking great.
You are going to have your own character. This is the face of your company and the face that represents you. While the customization options are not terribly in depth, somewhat basic, you have enough options to create something unique. You can make the character that represents you.
After you finish up, head over to the tutorial and begin learning how the game works. The tutorial works like most others, giving you some thorough information and lessons so that you know how to play the game. It is straightforward and easy to follow, and finishes up quickly. You can get right into the game once you are done.
In Rail Nation, you are going to have quite a few tasks ahead of you. You will want to start off by completing deliveries and doing jobs. This is how you will make your money, how you will afford to grow. As you continue to earn money, you will want to purchase upgrades for your company. This includes new trains, upgrading old trains, adding to your rail system, and updating and adding structures. All of this can help immensely when growing your company, as your success and popularity rely on all of it.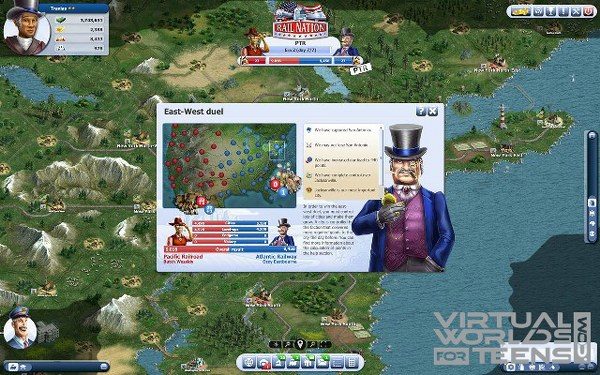 You can also complete research. While research is costly, it is beneficial in the long run. It gives you more options and opportunities as you grow. However, it might work out best for you if you do research later on in the game. Too early and you end up spending more than you can afford, which will hurt you. Once you can afford it, though, research will be a vital tool in your journey towards greatness.
From a visual perspective, Rail Nation is pretty solid. Although the game doesn't look that sharp, there's a lot going on such as your own locomotives moving place to place and just a ton of other detail on the map to go with it. The train models that you'll see in the shop look pretty top notch as well.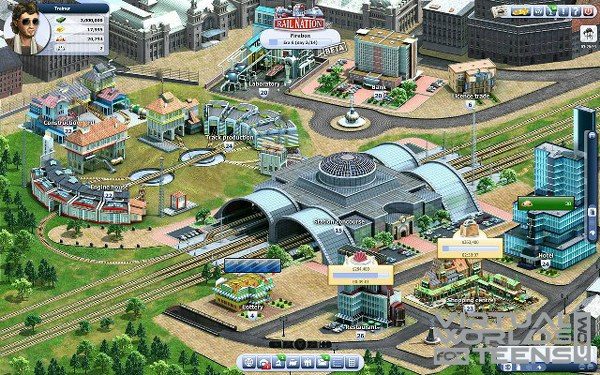 For more screenshots, click here.
As with most games, especially browser-based ones, every action will take time. There are two ways to handle this. The first is to let everything go, log out, and come back later. When you return, you can pick things back up after everything has finished. The second way is to use in-game currency to rush finish everything. This can get expensive, but it will speed things up for you.
Rail Nation is a beautiful, engaging strategy and management game. For anyone who adores rail systems and trains, or likes the challenge of these types of games, it is going to leave you feeling satisfied. While not overly complex or difficult, the gameplay is done exceptionally well and it is a great game.
Watch more videos on their YouTube channel: Rail Nation on YouTube.
Rail Nation is free to play.
Sooo, did you think this game looks cool? If yes, Like!