With over 100,000 players you will be able to join the fun as well in the top 100 simulation game that has taken over the United States of America. Pocket Family has made a huge dent in the virtual world and is taking it by storm. You will not want to miss out on all the fun that this game has to offer. So jump right in and get your game on today!
In this wonderful game you will be able to build the house of your dreams. Yes, your very own dream house is all yours to build, decorate, and furnish. Pocket Family allows you to make the perfect life for you special little family. As you design your house you can pay special detail to each room specifically if you wish.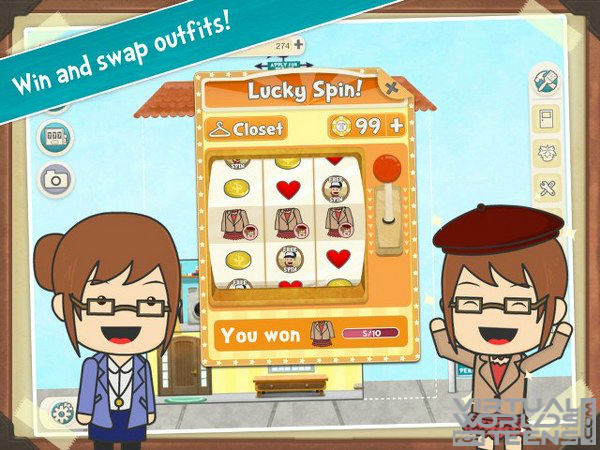 You can add furnishings and décor just the way you think is best. Add flare and style to any room as you are the interior designer! There are so many things you can do to this dream house such as put up cool wall paper, install different types of flooring, and even add some interactive decorations.
The cute and adorable characters you will fall in love will are lots of fun to play with. Once you build your house these cute little characters will be ready to move in and live the great life you have built for them. The characters are animated and each of their personalities is different and unique.
This only makes the game play more fun and captivating. You will also see that their tastes and styles are different too. You will be able to help each character throughout the game such as helping the twins, Dewey and Elroy play some funny pranks on the other characters or help Ellie become an awesome cheerleader. You might even find yourself helping Uncle Oscar in his garden.
Each character will give you requests and you can help them carry out these requests to make sure your household stays happy. Of course you do not have to follow through with each request, but it is advantageous if you do. If you do follow through with the character's requests you will then be able to collect coins. The more projects you complete leaving your character happy the more coins you will be able to collect.
For more screenshots, click here.
One of the really cool features of Pocket Family is you will be able to drive around and check out the neighborhood. You can say hi to your neighbors and so much more. The update to this game will allow you to visit your friend's houses. This is amazingly cool and offers so much more fun on new levels.
You will even be able to win new outfits. There are so many great qualities this game has to offer that you will not be left wanting. As you play Pocket Family you will adore the characters and be captivated by all the designing and decorating you will get to do.  You will have an amazing time!
Watch more videos on their YouTube channel: Pocket Family on YouTube.
Pocket Family is free to play.
Sooo, did you think this game looks cool? If yes, Like!