Enter into the world of Planet of Cubes. This is the only survival Massive multiplayer online real time block building game that has thousands of players in an open world that is made of blocks and cubes.
Journey into the spawn zone where you can make new friends. Simply add them to your friends lists and then move onwards to keep exploring this massive open world. You will be able to find and then mine various resources like diamonds, cobblestone, ore and gold. You can even craft armor, various tools like axes, hoes, and pickaxes as well as craft weapons that will help to make progress go much faster. You can even craft and use the furnace to help to create new blocks and items like iron and glass. You can survive alone or with your friends.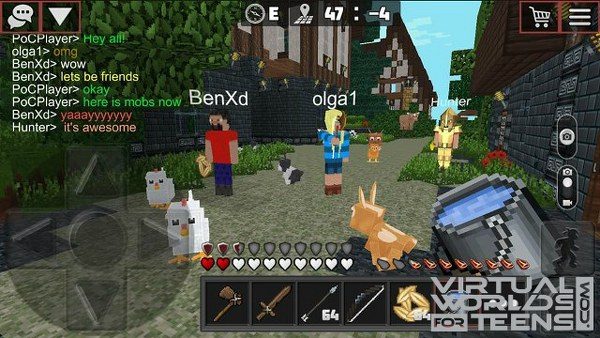 Create a unique team and then build a base with your friends to protect and survive the monsters such as zombies and giant spiders, skeletons and creepers, and other hostile teams and players that will try to destroy what you have built. You can chat with the people around you or have private chats with the friends on your friends list. You can even use scrolls to teleport to your friend's area when they are online. That is really cool. Take your time and customize your character by picking a unique skin from more than 160 different skins inside of 7 different skin packs that all have themes.
The multiplayer mode is really creative. You will be able to rent Chunks or your own areas of the planet made of cubes and start enjoying being creative right away. You can chat with people from all over the world while you are building. You can only create within your personal chunks, but you will have to watch for your rental expiration. Once you have your rental expire, someone else can rent that chunk and cause you to not be able to modify the area anymore. That is the only bad part that we have really found about this. The rental part can be intense, but as long as you keep up the rent and don't let your rental expire, you should be fine. Each chunk is 16 x 16 cubes and 256 cubes high. You will be able to turn on the "Show my chunks" mode and spot all your areas on the map. All the chunks will be gray except what you have rented.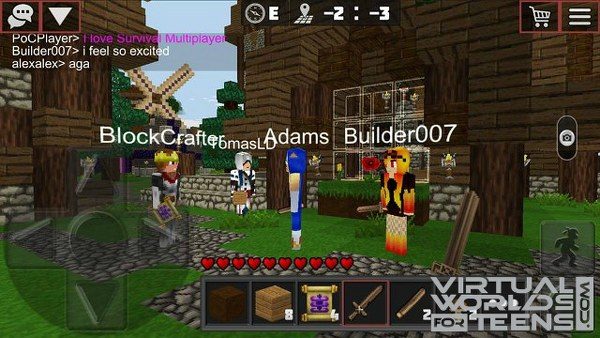 For more screenshots, click here.
You will not be able to dig or build in the spawn zone and on chunks that belong to other people. Planet of Cubes will give you an endless amount of opportunities and potential for your survival as well as creativeness in this great big open world. Build castles, cathedrals, flying islands, cities, military bases and so much more as well as being able to explore pyramids and lost ships that are all waiting for you while you explore this planet. Planet of Cubes is the one place where you can let your weird flag fly when it comes to creativeness.
Watch more videos on their YouTube channel: Planet of Cubes on YouTube.
Planet of Cubes is free to play.
Sooo, did you think this game looks cool? If yes, Like!