Pinky Distortion is game created by the bassist of popular Visual Kei band AN CAFE. With Kanon's background in music, it is no surprise that this game is about music. You are going to be leading your own Visual Kei band into success, guiding the band mates through troubles and helping them along.
From start to finish, this is an intriguing game with a different type of story and game play. It is a visual novel, which means that it plays out like a book and you make decisions to influence the direction. You will be playing through and watching everything unfold in front of you. As you continue to play, you will be able to enjoy more and more of what this game offers.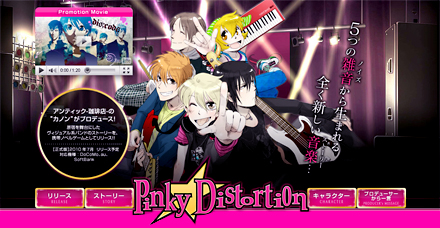 The start of this game takes you right into the journey of helping this band find success. The band is DIS;CODE and it relies on your help to find the vocalist along with more and more gigs. You will be the person in charge and helping to take the band further. Since your character is a huge fan of Visual Kei, this is actually a dream come true.
It is one of her greatest passions and dreams in life, and it is one that she is living. This gives you the opportunity to live out her dream and do it successfully. You will be able to navigate the world of music, find a new singer, and book gigs so that DIS;CODE can become increasingly popular and well-known.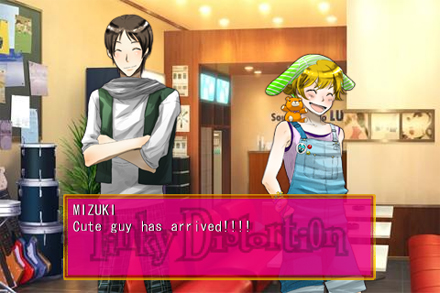 You will be playing through Pinky Distortion as if it is an interactive novel. You will be reading through the story and making choices, influencing the direction that it goes. This type of game gives you a new experience and takes you on an interesting journey. You will be able to travel through the world of music and Visual Kei in a way that you never have before. This gives you the opportunity to have more fun and enjoy new experiences. As you go further into this visual novel, you will find that more and more fun opens up to you.
The graphics of this game are incredible. The characters are wonderfully drawn and everything has so much detailed added into it. This helps to improve the overall gaming experience, giving you more fun and enjoyment added into the game. This will help to take you on a journey that sets off the imagination and gives you more entertainment as you continue to play.
For more screenshots, click here.
Any person who would like to play can. This is an iPhone game and it is available for download. You can go into the App Store quickly, find it, and begin playing as soon as it is downloaded. This will give you the opportunity to enjoy it quickly and wherever you are.
When you are on the run, at home, or anywhere, you will be able to take out your phone and begin playing immediately. This makes the fun more accessible and continuing the game more possible.
Pinky Distortion is free to play. When you're done playing this game, you can go check out this list for more Flirting Games.
Sooo, did you think this game looks cool? If yes, Like!