NOTE: this game has been discontinued. Find similar games here: Pet Worlds.
The Ever Popular Game of Neopets Has a New Spinoff — Pet Pet Park
Everyone has been waiting for the release of PetPet Park which is a spin-of of the every so popular game Neopets. This game is just packed with mini games and is vividly gorgeous!
At this time, there are 20 areas for you to explore with plenty of room left over for many more areas to be added later on. You can travel from one region to another, collect money by playing mini games. With your acquired money you can by accessories, clothing and other great items for your pet pet!
After you join up and start to play, you have a choice of 6 Pet Pet types to pick from:
Pinixy
This sweet little pet pet is a squirrel with hug furry ears and the bushiest of tails. Pinixy is loaded with energy and loves physical activities.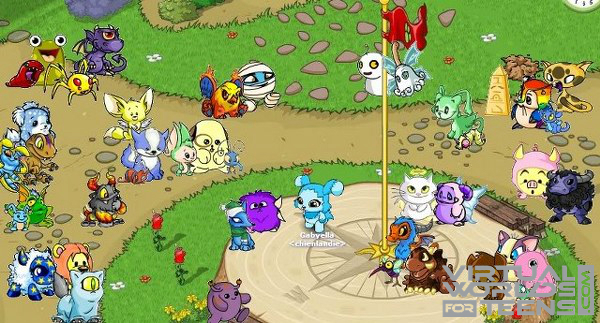 Dipni
This bashful little fellow is a fish-like pet pet and can be easily startled. They are very loving and extremely curious. Dipni makes funny little gurgling noises when he is happy!
Kassegat
This little character is cat-like and is very highly intelligent. This is probably due to the fact that they come from jungle areas. They also love to eat fruit more than anything!
Oukin
These pet pets are very much like  birds and are usually very calm, but will make a great deal of noise when they feel they are in danger.
Drym
Drym is a mischievous little pet pet that loves to burrow through the snow and find shiny objects by digging holes.
Hifflo
Hifflos are tiny hippos and they enjoy listening to music and relaxing.
Although the Pet Pets are limited at this time, there will be many more after the game leaves the Beta platform.
Getting Your Pet Pets
Much like Neopets, when you start off you are allowed to adopt for Pet Pets. You can choose the basic color(s) for your Pet Pets, such as blue, red, green and yellow. Further on in the game, after you have collected points, you can visit the beauty salon and change your pet's color to something unique like white or orange. Again, like in Neopets you are responsible for caring for your Pet Pets.
Your Pet Pet's Accessories and Clothing
From the beginning of play, you are given some free clothes, later on, you will have option to buy more fantastic styles.
There are three ways for you to get more clothing for your pets. First off, you can use your points, though this could take some time as the really stylish items are rather expensive, costing thousands of points. Don't despair, if you play the game enough you will gather enough points.
The quickest and easiest way to get clothing is to buy Neocash using your Pay Pal account.
Another inexpensive way to get these items is to take part in quests.  As the game is new, the number of quests at this time are limited, but keep your eyes out for them and participate. When you participate in these quests, you are rewarded with clothing. Dressing your pet up is the best way to add character and personality to them.
For more screenshots, click here.
Pet Pet Park Games
Some of the games in Pet Pet are very similar to those in Neopets. There are puzzle games such as Destruct-O-Match in Neopets where you break down blocks. If you are familiar with this puzzle you will probably skate right through it!
There are other games such as bowling and pinball, these games also are similar to those in Neopets.
The upside to those of you who like a real challenge is these games, they are not as easy to score points in as they are in Neopet. Also, there are not as many restrictions on the games as in Neopet. Any of you who have played the games there, you know you only get three tries to win, where as with Pet Pet you will not have those restrictions. You are only limited to the number of times you play that particular game in one day. That's a big plus for you to build your points throughout the day.
In between games and caring for your Petpet you will also explore a good sized virtual world to meet other Petpet owners and chat with them.
Summary
Whether you are a big fan of Neopet or have never played, you are going to love this game. It's loaded with so many activities, you cannot possibly be bored. Also, due to Pet Pet Park being new, there will be many add-ons and other perks coming down the road.
Grab your friends, jump in on the fun, you will have the time of your life!
PetPet Park is free to play.
NOTE: this game has been discontinued. Find similar games here: Pet Worlds.
Sooo, did you think this game looks cool? If yes, Like!