NOTE: this game has been discontinued. Find similar games here: Pet Worlds.
Pet Hotel gives you the chance to run your very own hotel. Instead of human guests, however, you are going to be caring for dogs. You are going to earn money by having dogs stay with you, and you are going to be taking care of them while they are there. It is an adorable and entertaining game that is great for people of all ages. If you love pets or want something that is rather different to play, then this is going to be the perfect choice for you. Pet Hotel offers a lot of wonder and cute activities that will have you going, "Aww!" with everything that you do.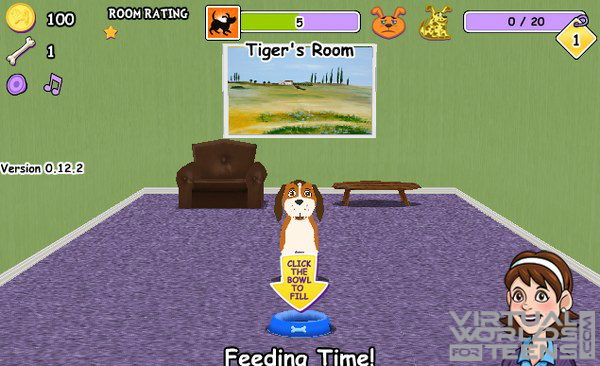 When you first open Pet Hotel up, you are going to be greeted with a simple tutorial. This is going to teach you just about everything that you need to know. The first step is going to be adopting a dog. Your only choice at the moment is Lassie, a beagle, but you can change her name. After paying the fee and adopting her, she is going to be put into one of your rooms. On the outside of the hotel, you can see all of the information related to her. This includes name, breed, and how much you are going to make.
You are not just leaving her there, of course. Being a dog, she is going to need some regular help. In Pet Hotel, you will be feeding her, bathing her, and having fun. There are numerous activities for you to do, and the store is open to help you out. When you want to buy food or other supplies, you have to head over to the shop to buy the stuff. You will see your selection and the prices clearly. Choose the one that you can afford and then go back to the dog's room. With the inventory open, give him or her what is wanted.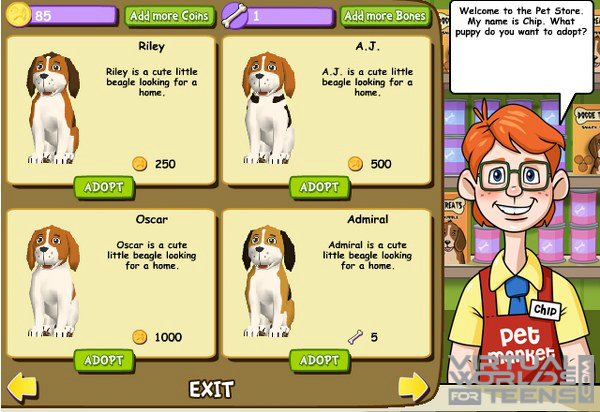 For more screenshots, click here.
It is important for you to expand and bring in more pet guests, of course. Pet Hotel is a hotel, not just a place to play with a single dog. In order to grow and continue having fun, you need to earn money and adopt more pups. Name them and place them in vacant rooms. Take care of all of them to ensure that you are earning your money. Keep an eye on their food, happiness, cleanliness, and needs so that you can give them whatever they need.
Pet Hotel is free to play.
NOTE: this game has been discontinued. Find similar games here: Pet Worlds.
Sooo, did you think this game looks cool? If yes, Like!