NOTE: this game has been discontinued. Find similar games here: Social Worlds.
Nord is a 3D online community where you can create your own character and design your own personal space in which you can be as creative as you wish. This browser based game has areas which can be used for many weird but various purposes.
Unlike all the other games where you walk around killing monsters, Nord is a great place where you have fun and party. The game is full of beautiful islands, race tracks, farms, mazes, clubs, and villages but free of all types of violence. Every area you encounter in the game has been created by other players. Just remember that in Nord creativity is the key, so you are only limited by your own imagination!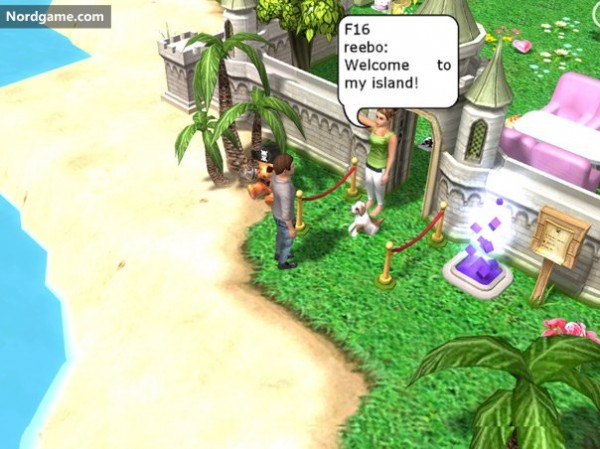 Nord's Nonviolent Gameplay
Nord is set in a lush 3D environment that has many types of landscapes including dungeons, deserts, and forests. As new players join, they work to expand the world by adding more villages by using 700 unique building blocks; with more being added constantly. This game features non-violent gameplay that is unique because it promotes an atmosphere that is friendly and great for people of ages to have fun and socialize in.
Cooperation
In order to level up in Nord you must gather specific resources. Each different level will feature different resources. Inside the Nord world you will find resources in many random places. For instance, some will be need to be planted by you, while others will be found lying on the forest floor or even in other users' villages. You are encouraged to have as many friends as you can make in Nord so you can share resources with each other. Soon after playing you will find that cooperation is the key to success in Nord!
General Game Overview
You will find Nord to be a peaceful world that is great for building your own village while exploring new and exciting places or simply hanging out with your friends. Just make sure you make friends and cooperate with others as you will need to grow and share random crops so you can unlock additional features and reach higher levels. For example, when you reach higher levels you will be able to unlock witches, horses, new dance moves, race cars, teleporters, and much more!
More of the great features offered by Nord are:
You can cuddle with adorable pets
Challenge your friends after building a custom race track
Grow and harvest your own crops to use and share with friends
Build a cozy home or an immense castle – it's completely up to you!
Free non-violent online virtual world
Design your own island and grow whatever crops you want
Collect pets and train them to do many cool tricks
Ride on ATVs, horses, or cars
Make new friends and chat with people from all across the world
For more screenshots, click here.
Nord Coins
The currency in Nord are called Nord Coins and you can earn them in various ways. For instance, you will earn 200 free Nord coins for simply signing up for the game. Additionally, each time you level up you will receive a specific amount of Nord coins. In fact, for each level you go up, there will be 5 more coins added.
Nord is free to play.
NOTE: this game has been discontinued. Find similar games here: Social Worlds.
Sooo, did you think this game looks cool? If yes, Like!