Need For Speed takes you places that leaves all other games in its dust. You are going to be exploring, competing, driving, experiencing, and making this game yours. It is not your basic racing game, not in the least. In fact, this game is something that most gamers want in a racer.
You are going to be able to get any car, mod it to your specifications, drive with friends, and be on the run from the police. It is your job to become Most Wanted while having some fun along the way. Race and test the cars, compete with friends to see who is best, and show off your skills while trying to make it to the top of the leader board.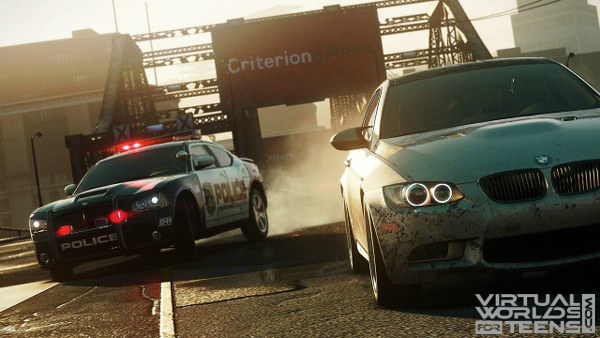 Racing games often lack individuality. When you play one, you are oftentimes doing the same stuff that you always do. You are choosing the best car, unlocking more, and doing modifications as time goes on. While some have taken a different look at what a racing game can be, many have not.
Need For Speed: Most Wanted is one of the games that wants to give you a different experience. This is an open world in many ways and it gives you the chance to race as you have never before, and to have a lot of fun in the process.
Your car is your key to success in racing games. Most of the time, you get better cars by unlocking them. You may have to do a certain task, you may have to go a certain length, or you may have to do something incredible. Regardless of what it is, you have usually had to do something in order to unlock the vehicle of your choice. Most Wanted gives you the chance to find and use any vehicle. That is right, find, not unlock. If you find it, it is yours. Use it to win and impress everyone that you see.
A racing game would not be a racing game without some modification going on. Once you find your perfect car, or really any car, begin to add in those modifications. Make it yours and make it spectacular. This will help you to beat out the competition and to soar past the cops as you make your way to becoming Most Wanted in no time, and in style.
For more screenshots, click here.
Playing against your friends is what makes this game even more exciting. Show off your skills, try out your various vehicles and find the one that suits you best, and make your way to the top. You can see which of your friends is truly the Most Wanted in Need For Speed. See if you have what it takes to be that person and keep testing your skills until you are.
One of the greatest aspects of racing games is how fun they are to replay. When you are done with levels, you can constantly go back through to beat old records. Remember, you are also going to want to find and collect vehicles along with make sure that you are, and remain, Most Wanted.
Watch more videos on their YouTube channel: Need For Speed on YouTube.
Sooo, did you think this game looks cool? If yes, Like!