My Singing Monsters, A New Slant on Social Games
About My Singing Monsters
Who ever heard of a game where players collect and breed monster and then listen to them sing? Well that's exactly what My Singing Monsters is all about!
My Singing Monsters is an adorable world building game where players collect these cute monsters and breed them.  Unlike other games, My Singing Monsters is a different experience because these monsters sing, play and even dance!
Populate an island with your monsters, create unique sanctuaries with landscaping. Place your creatures where you want them, feed them, name them and by all means make them happy! These adorable monsters are loaded with personalities as well. Using ingenious technology, you will enjoy gameplay and music like you have never experienced before.
Each island has its own song and is brimming with the world's most incredibly cute monsters ever!
Features
There are so many activities for players, you will never be bored! Here are some of the game's amazing features:
You get over 30 monster species to collect, love and nurture
Sumptuous islands with each having its own unique theme
Brilliant art, animation and audio effects
A large variety of decorations and structures to choose from
3D sound
Create amazing landscapes and sound combinations
Great social features
Game Center Support
Achievements
Many more monsters coming soon!
My Singing Monsters Is Unique
Where else will you find a game with more incentive then this one. Other social games allow you to create structures, raise animals and socialize with other players. Well not My Singing Monsters! This game is the first social building game that literally directs you to complete your quest. Your quest, quite frankly, is to build a monster chorus that fills the entire world in orchestration as you continually add one booming talent after another — your singing monsters.
GamePlay
When you first start off, you will be on a silent island and your quest is to immediately end this silence. With help from the in-game tutorial, you will place your first couple of monsters, then you must assemble the rest of your band. You will purchase your first monsters from the store and then you can breed them in order to create your own unique monsters.
These little guys are rather ugly in a very cute sort of way. Each one has their own particular voice or instrument to bring to the island. Buy several islands and create each island's rare background of sound.
Breeding
Your aim is to breed lots of little critters (and there are over 100 types to choose from), and blend their sounds into one symphony of awesome. To help you do this there are a variety of structures and decorations designed to either keep your monsters happy, or to upgrade them (namely a bakery). Oh and don't forget the castle, it dictates how many monsters you can have.
When you breed a new monster, place it in its own home. It will adapt to the rhythm and begin to drum, strum, stomp or sing. Your song will change over time with the addition of other monsters, or if you decide to silent/mute a few here and there — the song will change. So play around with your sound, change your monsters' participation and have a wonderful time!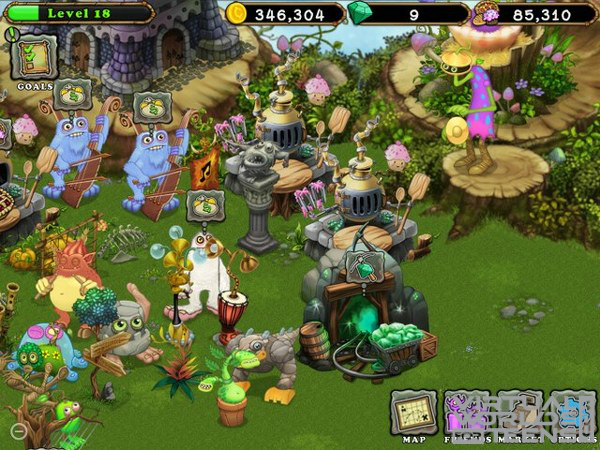 For more screenshots, click here.
Even though My Singing Monsters has a slightly different slant to social building games, you are still offered many common activities as practiced in these other games. Your monsters can earn coins by singing or feed them in order for them to level up. The higher level your monster is, the more money he or she will make!
You can also decorate your island with various weird looking decorations. Also, your monsters will earn more money if they are placed next to an object or plant that he or she likes. Therefore, always check your monsters' biographies to find out what motivates them.
Summary
This social building game is very unique and very cute! You will truly enjoy listening to your newly created songs that change as you add monsters, mute monsters and collect amazing objects along the way. My Singing Monsters is just overall a great deal of fun! If you like social building games, this a must for your list. Grab your friends and come on over for a monstrous good time!
Watch more videos on their YouTube channel: My Singing Monsters on YouTube.
My Singing Monsters is free to play.
Sooo, did you think this game looks cool? If yes, Like!