NOTE: this game has been discontinued. Find similar games here: Simulations.
This game adds a fun new twist to the many business management games already available creating a new and unique game for game lovers. My Shops will allow you to manage a variety of shops instead of just one main store.
Your shops will be located on one avenue which is pretty cool. The game play starts in a bakery.  This is where you will learn the basics of stocking the different types of goods you will need for the different and unique customers you will serve. Each time a customer buys one or more of your products and is happy a little red heart will pop up over their character. If you click on your customer with a red heart you will give to them experience.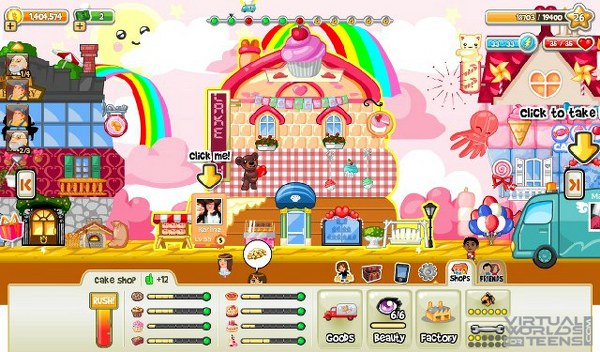 The reason you will want to give you customers experience when this happens is to help in your game play as well. Customers can level up after they receive so many clicks which allow that customer to find more interest in a larger variety of goods. This can unlock new customers who may purchase more expensive items.
Sine you are the shop owner, you will want to unlock as many high paying customers as you possibly can. You will be completing missions and trying to keep a consistency in making good sales at all times. When your level increases you will be able to add new businesses to your street that you will run as well.
These new stores will pretty much work the same way as the bakery shop. So you will be well equipped to make sure you conquer your missions. Of course you will be selling different items than the bakery does. Actually, the products you sell will get more expensive as you advance in the game and will begin to draw in the higher paying customers.
Once you begin opening up new shops, make sure to design them to fit what you are selling. Some of your higher paying customers will only shop at stores that look high quality enough for their tastes. This will also help you keep all of your customers happy from the lowest paying to the highest paying customers. Your overall rating comes from the happiness of your customers, so it is very important to serve at their leisure.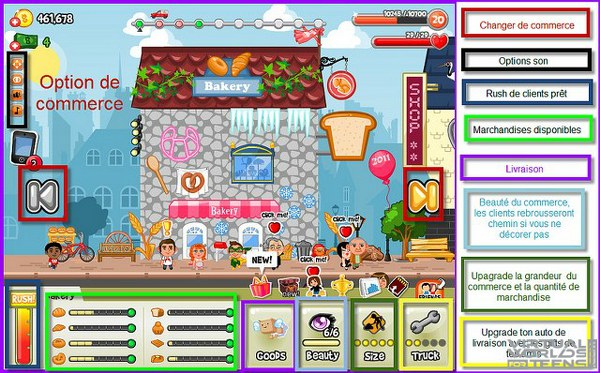 For more screenshots, click here.
Try not to make any of your customers unhappy as this will drag your rating down. You can keep from doing this by not unlocking customers you cannot afford until you are ready for them. If you have an unhappy costumer it will make it more challenging to finish your quest. This portion of the game play does add a challenge, but makes the game more fun because it requires though provoking actions.
This business management game is worthwhile and the new twists make it that much more enjoyable. You will find yourself lost in the game if you do not watch out, because it is just that fun. Enjoy your game play and make your avenue of shops the best yet.
My Shops is free to play.
NOTE: this game has been discontinued. Find similar games here: Simulations.
Sooo, did you think this game looks cool? If yes, Like!