You will experience a whole new way to play doll house with My PlayHome. This game was designed by parents and will help to develop imagination as well as allow children to play while acting out social connections and communications. Created with enough entertainment for eight year olds this game is yet simple enough that a three year old can navigate through and enjoy.
If your child loves playing with dolls, then she will be captivated at this game. With this game, your child can pretty much do everything that she would want to do with her doll house and dolls. Actually, during game play your child will experience an even more in-depth way to play house.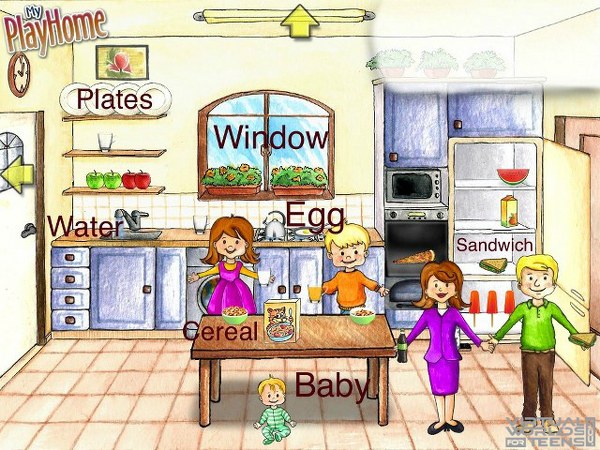 Everything is interactive. Your child will be able to open doors, close closets, watch television, take showers, well maybe not your actual child but the characters used in the app will be able to. Your child will be impressed with how interactive this game really is. They will be able to cook up breakfast for the children and send them off to school. The characters can do pretty much anything. That is what makes this game so fun.
Your child will actually control what the characters do. If she wants them to brush their teeth, sleep, listen to the radio, well it is feasible. There are even cool features such as if you close the drapes, the lighting in the room gets dimmer, or if you want a different cd playing in the cd player, change it!
Allow your child to explore their imagination with My PlayHome. Not only is this game cheap but you will definitely gain favor points in their eyes. Whether you are a parent that allows unlimited gameplay for your children or limits game time day to day, your child will experience a new level of fun. It will be exciting for them to interact socially with the characters allowing learning for real life social event like occurrences that can happen throughout game play.
This game also brings a new cool aspect to parents as well. This game has absolutely no clean up involved. You will not have to force your children to clean up the messes they make while playing with their doll and play houses. This only makes this game so much more enjoyable to parents.
For more screenshots, click here.
This game really brings playing house to life. With My PlayHome, your child will play until you make them stop. They will love the beautiful colors in the hand drawn art work. There is not another doll app game that comes close to this one. The detail, the interaction, the simplicity just adds to the fun for children.
So, let your child step into this virtual world of fun with dolls and play houses. After all, what child wouldn't want to take playing house to this type of level where the interaction almost seems real? To them it will definitely seem real as they control the lives of their characters.  Play time will never be the same again.
Sooo, did you think this game looks cool? If yes, Like!