NOTE: this game has been discontinued. Find similar games here: Pet Worlds.
Zombies seen like you have never seen them before, they are cute! An excellent game created to play on your iPhones and iPod Touches!
When you download your new app to your phone you will be able to choose if you want a little girl or little boy zombie pet. A great memory game! Once you decide if you want a boy or a girl you will be able to create your very own unique zombie pet by choosing from different styles.
Did you know that you can even give your pets a tattoo? Create a zombie pet with the latest hairstyles and dress them the way you want!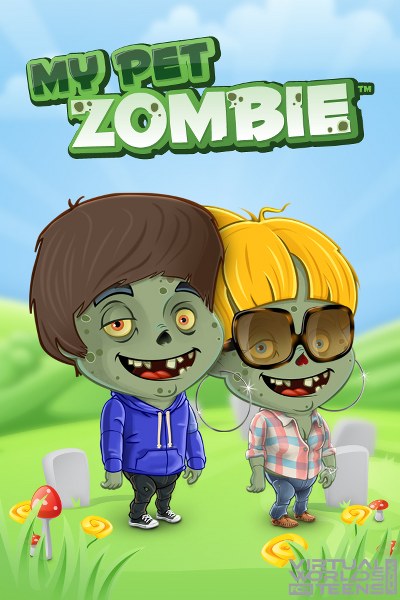 Once you have dressed your zombie pet for the day you will be ready to enjoy the mini-game to earn money so you can buy more goodies for your new found pet. Did you know that you can even watch your zombie pet dance?
These pets do not need to be left unattended for too long because they will become very hungry and start looking for something to eat! One important thing to remember is if your pet is left alone too long he or she will shamble back into his or her grave because he or she has become depressed because you have not been around to play with him or her lately. If this happens you can rezombify your pet, but that is not a good thing to put your pet through again.
Be sure and play the mini-games so you can afford to feed your new zombie pet. We do not want him or her going around asking or hunting for BRRRAAAIIINNNSSS!!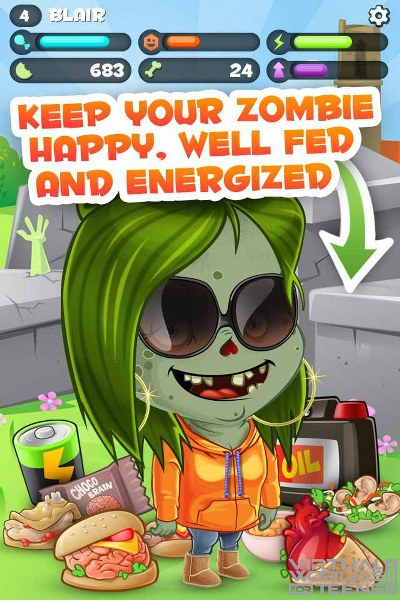 You will have to tend to your pet zombie just like you would your real dog or cat. You will have to keep your pet zombie fed, energized, and happy. If you let your pet zombie become hungry and suffers from loss of energy the pet zombie will become very hungry and try to eat brains and not just any brain; he or she might try to eat your brains!!
If you want to keep your pet zombie fat and sassy and energized you will need to play the mini-games to earn enough money to feed him or her and clothe them as well as gain experience.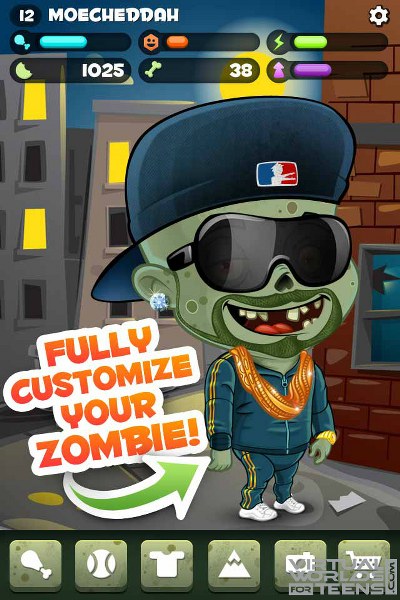 For more screenshots, click here.
There are two cool features that you will enjoy. One feature is the memory game called "Zombie Director". This is a memory game where you have to repeat your zombie pet's actions by using gestures. The other excellent feature is "Zombie Talkback". This feature will allow you to record sayings and your zombie pet will be able to repeat what you said.
Do not forget to take a snap shot of your pet zombie! Did you know that your pet zombie can even show up in several locations all over the world!
Now it is time to enjoy your very own Zombipocalypse!
Let's get crackin' your zombie pet is beginning to get a little hungry and I do not have any brains to spare.
Watch more videos on their YouTube channel: My Pet Zombie on YouTube.
My Pet Zombie is free to play.
NOTE: this game has been discontinued. Find similar games here: Pet Worlds.
Sooo, did you think this game looks cool? If yes, Like!