NOTE: this game has been discontinued. Find similar games here: Pet Worlds.
Owning a dog is a lot of work, but it does not have to be stressful. If you cannot own a real dog or do not want the responsibility, you can own a virtual one. My First Dog gives you the chance to own your own virtual pup, care for it, dress it up, play with it, and teach it new tricks.
You have all of the fun and work without the same level of responsibility. This makes it a great option for kids, anyone with allergies, and anyone who cannot own a real dog because of personal reasons. You will have your perfect pup ready to play and grow with you immediately.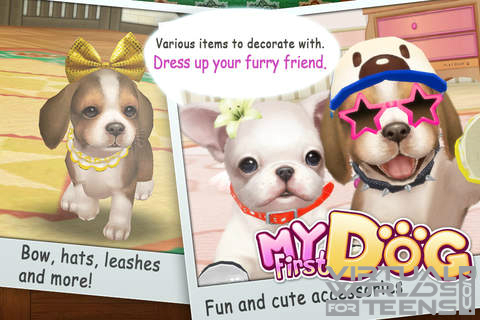 Before you get into the playing, though, you need to adopt one. There are numerous breeds available, like beagle, so it is easy to find your favorite. After searching through the selection, choose and name the one that you like the most. You can name it anything that you want to, so have a little fun here and be creative. Since this is going to be the start of a great friendship between the two of you, make sure that it is something strong and that you love.
Taking care of your brand new pup is not difficult. You are going to be walking, feeding, and bathing it, just to name a few of your responsibilities. These are all really simple to accomplish and rewarding. When you complete these tasks, your pup is going to be visibly happier.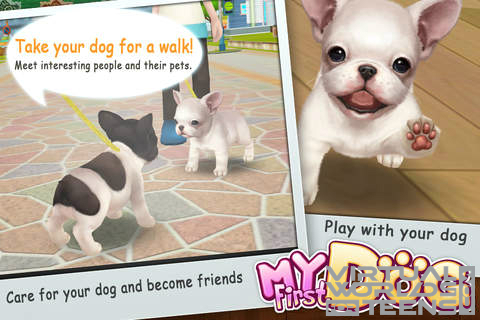 That is right; you can see the emotions in your puppy. This is a huge help when trying to figure out what he or she wants. You can determine its happiness and needs rather easily, allowing you to make the right decisions. Make sure to use this throughout the game to avoid having an unhappy, angry pup.
As you grow closer together, you will be able to teach it new tricks. Make it perform various stunts for treats and joy, and all with ease. Continue to grow closer in order to teach it everything that you can.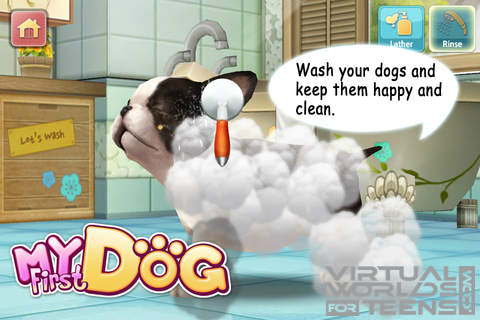 For more screenshots, click here.
One difference that separates this from real pet ownership is how you can customize your pup. While you can dress one up in real life, My First Dog makes it far more exciting. Dress it up in various clothes and accessories, like hats and glasses, that you think look great. There is a large selection of these items available so it should not be difficult to find something that interests you. Mix and match and grow your closet until you are happy with the pup's appearance.
Throughout My First Dog, you can grow alongside your new friend and have a lot of fun. It may just be a virtual pup, but it is so much more exciting than you might think. There is going to be a lot of love and care between you two, and this game may offer a lot of fun that you cannot have in real life because of allergies, finances, area, or anything else that stops you from getting a dog.
My First Dog is free to play.
NOTE: this game has been discontinued. Find similar games here: Pet Worlds.
Sooo, did you think this game looks cool? If yes, Like!