NOTE: this game has been discontinued. Find similar games here: Simulations.
Have you ever dreamed about building your very own country?  One that will not only run the way you want it to but also have the look you want too.  Well you can make this dream come true with My Country.  My Country is a virtual city builder game that allows you the opportunity to create your own cities and form the perfect country just for you and your virtual citizens.  You will be amazed at how fun this game truly is.
My Country tries to add a focus on realism so you will be able to really feel like you are rebuilding your country from the ground up.  You will be in charge of creating the proper economy for your world.  Since it is based off of some real life principles you will have to make sure you consider things such as producing electricity, managing environmental concerns, what to build for your citizens, where to build, how much land you need, and so much more.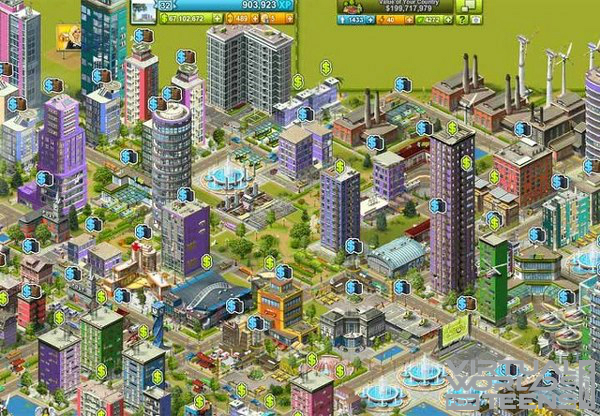 This virtual builder game is much more refined than the other builder games available for game play today.  It also adds some more complex experiences within the game play which adds to the challenge of it altogether.  That is why My Country is one of the most liked video games available.
As you play the game you will be able to save up your cash to spend whenever you want.  A good cash flow will come in handy when you want to do specific things such as speed up your building processes or hire new employees to help you do a certain task.  You will have tasks to perform throughout the game play as well as quests and goals to meet.  This creates a cool challenge to your game play as well.
Since this game does focus on realism you will be able to use your critical thinking to create an even better country set up.  For instance, if you want to create a larger scale taxi business you will first need to purchase more taxi cabs and begin accepting bigger contracts to allow you to upgrade to a large business scale. This shows that the game does reflect real life which makes the game all the more fun to play.
You will also need to monitor the pollution levels in your city.  This is every important.  You can plant things such as trees and even flowers to help with the pollution as doing this will counteract with the pollution allowing you a little more flexibility.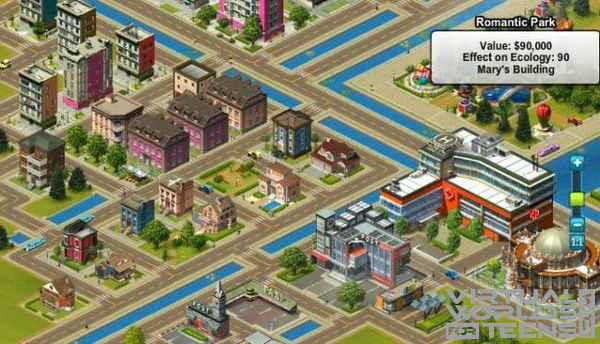 For more screenshots, click here.
Keep in mind that you will also need to keep your energy levels under control as well.   If you need to create more electricity you might want to look at some green methods for producing more energy such as building a windmill or putting up some solar panels.
As you can tell, My Country is the perfect city builder game and because it does focus on realistic views you will not only be challenged but you will also learn as you go.
Overall, it is a very nice game with great graphics and even better concept that promises hours of fun and game play.
Watch more videos on their YouTube channel: My Country on YouTube.
My Country is free to play.
NOTE: this game has been discontinued. Find similar games here: Simulations.
Sooo, did you think this game looks cool? If yes, Like!