NOTE: this game has been discontinued. Find similar games here: Simulations.
My Cafe Katzenberger gives you the chance to run your own café and make food for many customers. From the beginning, you are going to notice similarities between it and other café games that you have likely played in the past. You are running a café on your own, making food for customers, and dealing with them one at a time.
It is easy to understand, especially if you have played these games in the past, so there should be no problem getting the hang of it. Once you get going and are out of the tutorial, you will see the excitement really come alive here.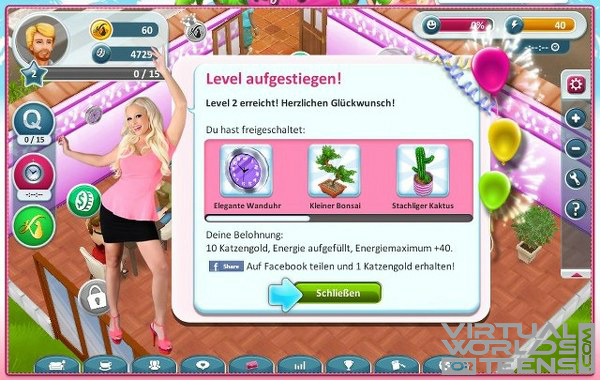 Getting through the tutorial is easy. It is rather short and just shows you the basics so that you know what you are doing. It will have you taking orders, buying supplies, cooking food, delivering dishes, taking money, and cleaning up. You will also learn about the shop, how to move around, and some other basic parts of the game.
For people new to these games, this is going to tell you just about everything that you need to know. If you know your way around café games, though, then just power through the tutorial and you should get to the real fun.
When you begin getting into the game, you are going to be able to level up and do more. You can grow your café, make a wider variety of dishes, and serve more people. This will turn into more money in your pockets, turning you into a success. Doing all of this is easy, too.
As you will see from the tutorial, you just need to buy the necessary ingredients and then make the food. It will take some time to finish, but you will still get a great dish to show for your efforts. After everything is plated, bring the food to your customers to eat.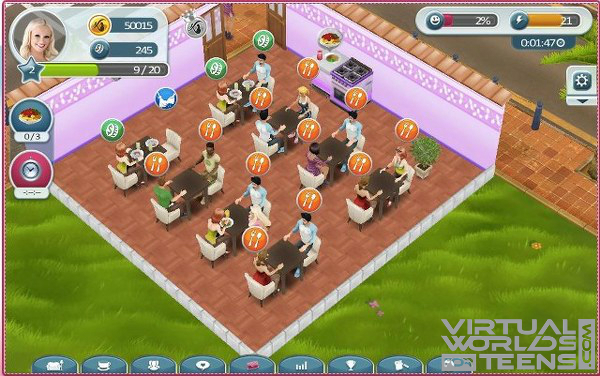 For more screenshots, click here.
You can change the café as you play. Using the shop, buy the decorations, furniture, and items that you like. This will help you to make it more suitable to your individual tastes, whatever they may be. Make sure to look through all of the items available, of course, so that you are not missing out on anything.
You can be happy with the way that your café looks and works, but only if you find what you like first. When everything is set up your way, you will enjoy the game even more.
Watch more videos on their YouTube channel: My Cafe Katzenberger on YouTube.
My Cafe Katzenberger is free to play.
NOTE: this game has been discontinued. Find similar games here: Simulations.
Sooo, did you think this game looks cool? If yes, Like!