An awesome, fun and entertaining game created for children to enjoy being involved with their own education! The Moshi Monsters game was created as a whole new way to approach education and make it fun for you to play and learn! The Moshi Monsters game is created with all ages of children in mind! This game has several quizzes and puzzles for you to solve.
The better you get at solving the quizzes and puzzles the quicker you will level up and the happier your new pet will become! Your parents will be excited to know this is a game you will enjoy and it is a safe environment for you to interact online and learn as you play!
Moshi Monsters has a limited access free account that is for paid account members of Moshi Monsters.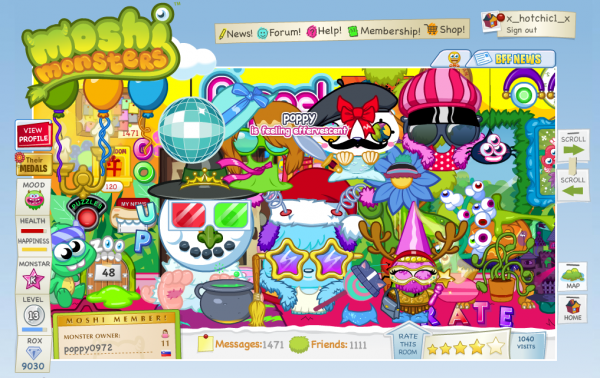 How to play Moshi Monsters
Let's get started!
Pick out and adopt your Moshi Monsters. You will be able to have the pleasure of naming your very own pet and designing what he/she will look like!
Remember the more you play with your Moshi Monsters the happier he/she will be!
The way to nurture (feed or protect) your new pet you will need to solve puzzles on a daily basis! Solving puzzles will earn you Rox (coins) that you can use to purchase things that your pet will love to play with and the weirder the object the better!  You can purchase these items in the Moshi Monster Virtual Shop. These items will keep your pet very happy and healthy!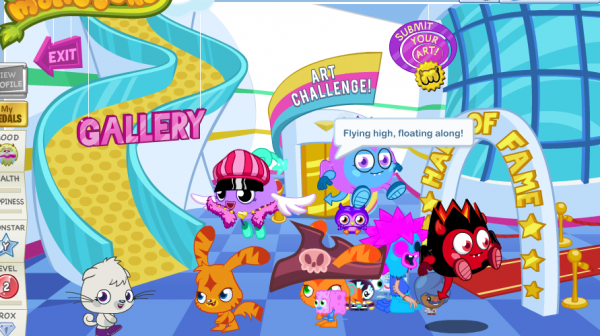 There are many games that you can play that will help your Moshi Monster pet level up, gain Rox and experiences! There is a gatekeeper (located in the volcano) that your Moshi Monsters will have to speak to about the challenge that was offered. The gatekeeper will then give your Moshi Monster instructions to follow.
Use the map to see where to go to reach the volcano.
The first instructions are: go to Sludge St. to the rental house, you will find/receive a secret code so you can enter the volcano to gain access to the Super Moshi Headquarters!
Ok, once you find the codes and clues to the codes you will need to use this clue to help you decipher the codes that are used to open the safe! The safe contains the code to enter the volcano so you can speak with the gatekeeper.
For more screenshots, click here.
TIP: Moshi Monster Mosheling codes can be found or received while you are playing.
Do not worry if you see other Moshi Monsters because these monsters are other friends from all over the world playing too!
Once you reach the volcano you will have to become a paid member to go any further on your adventure!
If you have problems along your journey feel free to ask other friends how and where to locate codes to help you reach the next level.
Invite your friends, neighbors, and family to join you on Moshi Monsters. You can invite friends and family by sending them a specially generated Moshi Monster URL with your user name!
Watch more videos on their YouTube channel: Moshi Monsters on YouTube.
Moshi Monsters is free to play.
Sooo, did you think this game looks cool? If yes, Like!