Mommy is having a baby in Mommy's New Baby! Before the baby comes, she has to take care of herself. She has to make sure that she is healthy, that everything is okay, and that she is going to visit the doctor. Once the baby arrives, she has to make sure that her little newborn has everything, as well.
You are there, helping Mommy through it all. You are going to make sure that Mommy is happy and that the baby is healthy. With so many activities to complete, you can do all of this while having fun yourself. There are so many ways to keep Mommy and Baby happy and healthy, and they are all incredibly entertaining.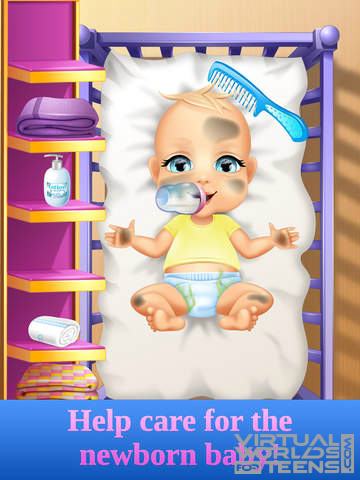 Mommy's New Baby takes you on a journey from pregnancy to motherhood. You start out as a pregnant Mommy, preparing everything for the day that Baby arrives. During the pregnancy, you are going to make sure that Mommy is in great shape, is taking care of herself and the unborn Baby, and is ready to become a mother. You are going to take her to see a doctor, too, to see ultrasounds and to make sure that the baby is healthy and ready to come out on time. With the baby born, you can start to do more activities as a new mother.
You have 8 activities to complete. Each activity is going to have you helping Mommy to prepare for the baby and to get everything checked out so that she is healthy and happy. These activities, such as visiting the doctor, are entertaining.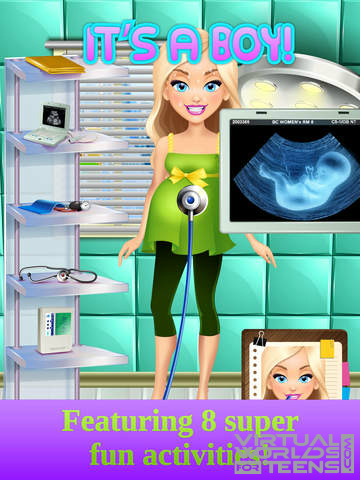 You have a map that gives you the chance to choose where you go, what you do. You can visit these places once the baby is born, as well. You can have fun together, you can make sure that everyone is in top shape, and you can explore the map to see which activity you like the most.
After the baby is born, Mommy's New Baby becomes even more exciting! You can take part in the activities along with your baby and you can enjoy the game so much more. Taking care of the baby and having fun are what make this so exciting, so entertaining, for everyone. You can clean, play with, and care for your newborn in so many ways. Your newborn will have all of the love in the world thanks to the time and effort that you put into this.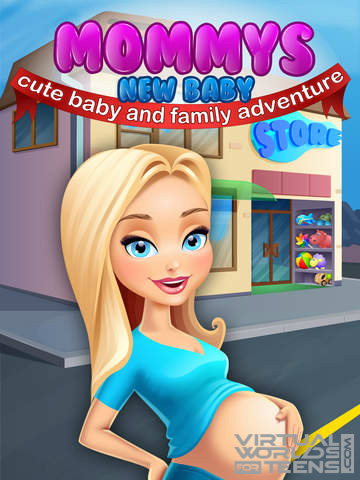 For more screenshots, click here.
Mommy's New Baby is easy to play. Anyone can pick it up and start getting into the game, caring for both Mommy and Baby in no time. It is a rather straightforward game that gives you the chance to experience pregnancy and motherhood virtually.
It is child-friendly, as well, so there are no worries for parents out there. Anyone 4 and over can pick it up, help Mommy, help Baby, and have fun. With so many activities and with how easy this is to play, you can find yourself escaping into motherhood with Mommy as often as you want.
Mommy's New Baby is free to play.
Sooo, did you think this game looks cool? If yes, Like!