NOTE: this game has been discontinued. Find similar games here: Social Worlds.
If you are looking for a role-playing game involving celebrities, then Miya: Before & After is what you want! The game is focused on taking you through the journey of becoming a Hollywood pop star. You begin the game at LAX where you meet Miya Mackenzie who will help you get going and mentor you on your way to fame.
The goal of the game is to complete various missions so you can collect Pop Points which will cause you to have a higher Star Status; this status takes you all the way to Super Star!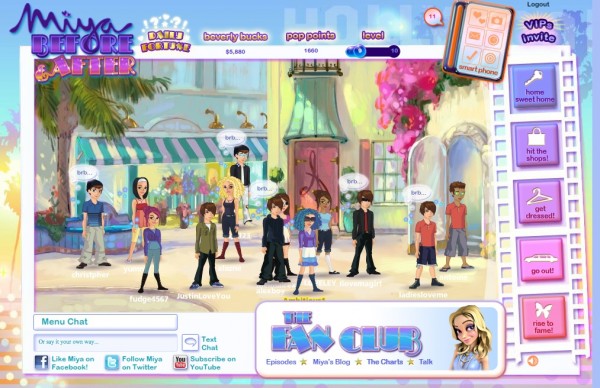 Game Features
You will enjoy a wide array of cool features along your way. Some of these include:
Create your own unique avatar to use for interacting with the scenes
Buy hair, accessories, and clothing for your avatar using Beverly Bucks
Embellish your very own apartment and then have fun showing it off to your friends
Complete quests to earn Pop Points
Use your smart phone virtually to connect with your friends
Host parties with your friends online
Chat via moderated and filtered forums with other players
Have fun exploring virtual Los Angeles
Complete missions or perform tasks to earn Beverly Bucks
Also make Beverly Bucks and Pop Points for playing mini games
Dress your avatar in the most fabulous outfits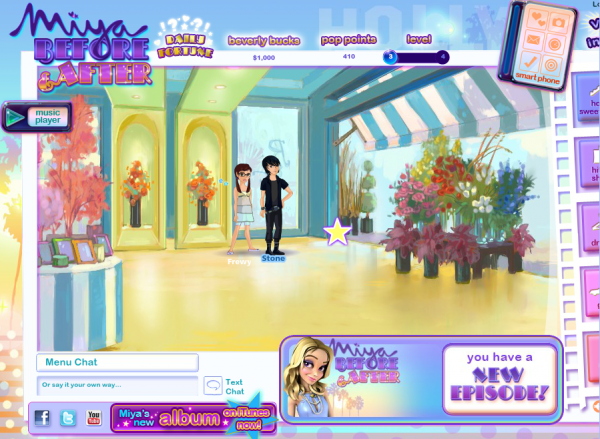 Miya: Before & After is an MMO that is free to play and based on role-playing as a celebrity. When you join the game you will be joining Miya Mackenzie, the International pop sensation, in Hollywood, where she will help you to become a super star. This game is fun and gives you a safe place to design a character, decorate an apartment in Hollywood, play mini games based around music, chat with friends online, and manage your successful singing career.
You will love that the game is free to play, but if you are still craving more Miya: Before & After then you can pay for a premium subscription that will allow you to access areas of the game that are member-only where you have chances to earn even more in-game currency.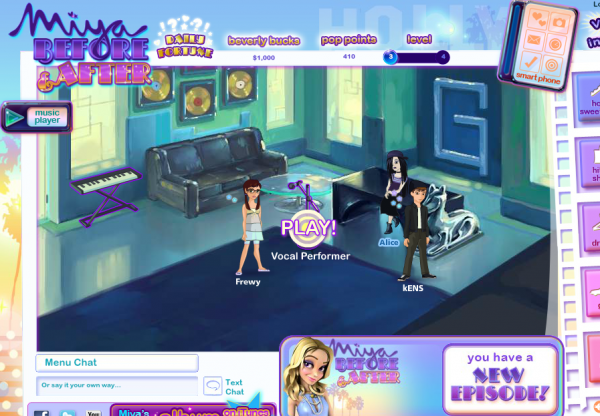 For more screenshots, click here.
It is inevitable that as pop icons like Hannah Montana or Britney Spears grow older, they also grow out of being good role models for young girls. The moment such girls begin to engage in more "adult-type" activities the parents of young girls feel a jolt of alarm through their bodies. Therefore, your parents would much rather have you create a rock star who will never age or get arrested for drunk driving.
In the end, you will love the animated star of the game, Miya Mackenzie. You will have the perfect opportunity to turn your own character into a huge success with a large transmedia merchandising brand. Miya will be with you through the game and turns out to be a very helpful mentor in the end.
Watch more videos on their YouTube channel: Miya: Before & After on YouTube.
Miya: Before & After is free to play.
NOTE: this game has been discontinued. Find similar games here: Social Worlds.
Sooo, did you think this game looks cool? If yes, Like!