One of the biggest games in the history of gaming, Minecraft is a name just about everyone knows. It is about building, designing, fighting, community, and exploring. It is about a massive world that you can deconstruct and rebuild your own way. It is about mods and making it unique. You can play it for survival or fun, or you can look at it from a designer's perspective. This game, in the end, is all about you and what you want to do. This is why it has become so massively popular; it gives you the chance to play and experience the universe the way that you prefer.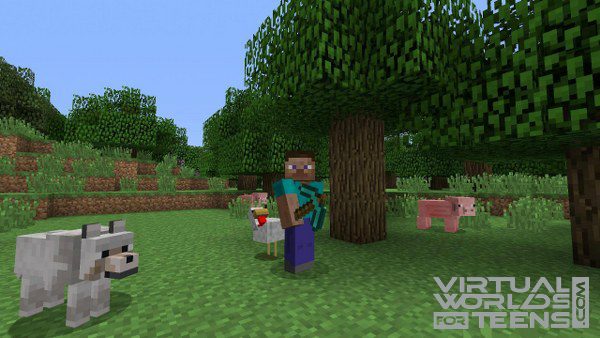 The world of Minecraft is a blank canvas. Well, it sort of is. While there is a lot for you to see and explore, as the world is massive and bigger than what you find in most games, you can do whatever you want with it. Tear down ground and trees and rock, dig deep into the earth, build massive structures, and do just about anything you want to do. The possibilities in this world are unrestricted and unlimited. Make it what you want and what you want to see. Build the adventure of your dreams, and then go on it with your friends.
Building and design work so well here because of the amount of materials, both in the vanilla version and with mods. You can use the materials built into the game, or you can download other materials and objects for your building. If that is your main goal with the game, it is well worth it. You can start to make and do more, creating structures of unimaginable sizes. Make your own home or build a perfect replica of a city. All of it is possible.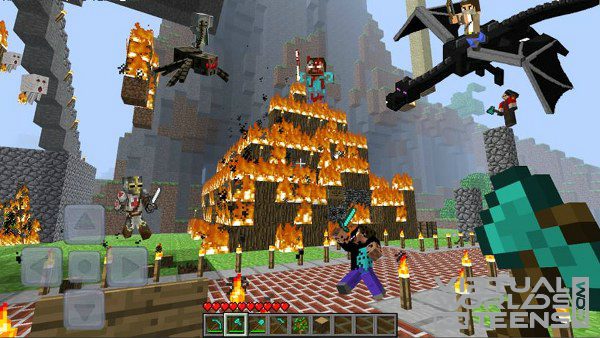 This game goes beyond building and designing. A large part of this world is survival. It is about farming, fighting monsters, finding your way to success, and, of course, staying alive. You will have to deal with enemies, like the Creeper, as well as find resources. Survival mode puts your skills and knowledge to the test, forcing you to fight harder for everything. Plant seeds, craft important objects, build yourself a shelter, and stay safe when the enemies are about, or fight them to prove your strength.
All of this is possible in online play. While you can play Minecraft on your own, you can also go online to play alongside friends. Join a server, or host your own, and start having fun. You can even add mods to the server that everyone can enjoy, or that will make the experience far more challenging. Build and design together, fight and survive together, or just hang out. Multiplayer is done your way.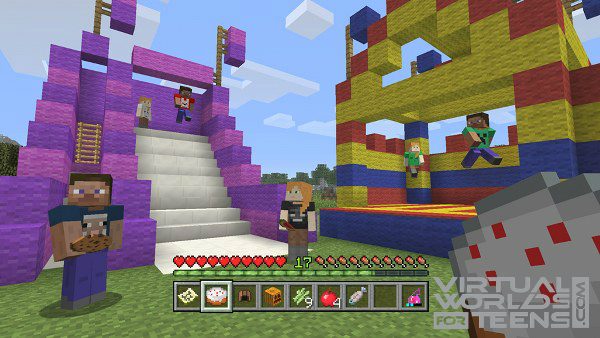 For more screenshots, click here.
The graphics do look very blocky, but that is very much part of the appeal and charm of Minecraft. Being able to create anything that you want is amazing, and there have been some fantastic creations from small log cabins to huge castles.
Every part of Minecraft is about the player. It is about the player's creativity, skill, and desires, about what you want out of the game. You can build your dream gaming experience with this. You can also grab mods that add locations, adventures, and some incredible new features to keep it feeling fresh.
Watch more videos on their YouTube channel: Minecraft on YouTube.
Sooo, did you think this game looks cool? If yes, Like!