Play as a mage and save the world from darkness in Magic & Mythies. The world is at risk and it is up to you, and the other mages at the League of Mages, to keep it safe. Using your magic and the Mythies that you collect, you are going to end the darkness and protect the world. Throughout this game, you are also going to do things like fish, farm, race, and more. It is a full and exciting MMORPG, with things to do everywhere that you look. Beautifully made and with content around every corner, it is everything you want.
Your goal is to save the world from darkness. The elves call on you and other mages to come to the rescue to stop the darkness from winning, by using your magic and Mythies to fight back. Doing so is not easy, and it is going to take a while, but the world will be safer as a result. You are going to keep people safe and you are going to keep the darkness down, making sure that no one gets hurts.
Keep everyone safe through all types of battles. Fight against villains and monsters that threaten the world of Terra, becoming a hero in the process. You can even fight alongside friends.
To make fighting with friends easier, make or join a guild. Guilds play important roles in MMORPGs, and you will want to become part of one. Make or join one, make or invite friends, and have fun with battles. In guilds, you will have special challenges to complete to prove that you are the best mage in the game, and that your guild is the best guild.
When fighting and doing all of this, you will have the chance to earn trophies and rewards. Your Mythie, your special little creature, can help you along the way with this, too.
Mythies are unique magical creatures, of which there are 5 currently, that you will have. Take care of them and have them join you on this dangerous journey. This is, essentially, the pet system of Magic & Mythies. You will have responsibilities and advantages when choosing your Mythie.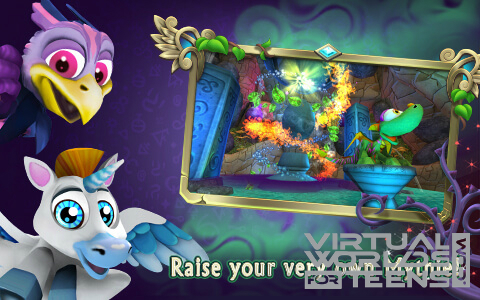 For more screenshots, click here.
This game is about more than battles. While fighting plays an important role in the game, as it is how you are going to end the darkness, you also have a variety of activities and mini games to explore. Racing is one of the most popular, and most entertaining. Fly through courses to make the best time and show off your skills. You can also go crafting, fishing, and farming to build your skills and to get items, or to sell what you collect for money.
Magic & Mythies is beautiful and engaging. The gameplay and mechanics make everything a cinch and make the game as a whole far more fun. Whatever your age and whatever you like to do, you will fall in love with this game. It gives you the chance to become a mage and save the world, with a lot more fun waiting for you.
Protect the Tree of Wisdom with your Mythie and defeat the Shadows once and for all in this fun yet educational MMO game by JumpStart, Magic and Mythies!
Watch more videos on their YouTube channel: Magic & Mythies on YouTube.
Magic & Mythies is free to play.
Sooo, did you think this game looks cool? If yes, Like!