Published by R2G Games, creators of Wartune, Dragon Pals and Yitien, Lunaria Story is a wonderful 2D MMORPG combining elements of classic 2D platforms and RPG. You can perform quests, fight monsters and train pets to battle against the enemy.
About The Game
Chaos has encompassed Lunaria. Tablets of Power that are gifts from the gods have been stolen and corrupted. An evil energy has ravaged the land and it's up to you to find the evil forces behind all this misery and stop them.
The game offers three classes of characters that have their own unique skills and abilities.
The Swordsmen
Their forte is battle, excelling in combat
The Elementalists
They conjure up magic that will bring down enemies both near and far.
The Hunters
They have a large arsenal of weapons including guns, bombs and various other weaponry.
Unlike similar games, this game does not have a "Healer" class, but potions work just as well, so a healer is not needed.
The game offers many features players are already familiar with from other games of the same genre as well as several new features.
Game Play
The game does offer an integrate a tutorial for main assignments. Keep in mind, once you enter the game, you will immediately be given an assignment and you are off and running. Your ultimate goal is recovering the Tablets of Power and with each new task you are closer to that goal.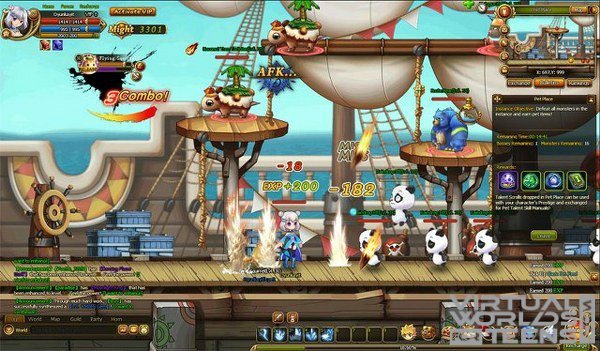 Your character can move from one destination to another instantly. You will have to complete various tasks and win numerous battles. In some tasks you can switch modes and guarantee your character will finish and win.
When first starting the game you will be spending some time clicking through and viewing various confirmations and accomplishments. Once you hit level 35, things really pickup and you are half way through the game.
Manually controlling your character is quite simple, the keyboard controls are very much like earlier 2D scrolling games. Most activities are controlled with arrow keys and not the mouse. Space = Jump, R = Talk and numeric keys are for various skills.
For more screenshots, click here.
Lunaria offers a variety of gaming elements including pet and farm systems and other various options. You may also join in the Battle of Might or the weekly Guild Battle. Both of these will bring generous rewards!
As with many other games, gold seems to rule the progression of the game. Selling gold coins, purchasing items from the shop, enhancing your character's skills or skipping a tough quest altogether. Use gold to upgrade your weapons, equipment and even your pets!
Conclusion
Lunaria seems to lean toward younger players in the social game genre. If you are into lighter weight, fun games this is for you! So get your friends together and come on over for a day of fun!
Watch more videos on their YouTube channel: Lunaria on YouTube.
Lunaria is free to play.
Sooo, did you think this game looks cool? If yes, Like!