NOTE: this game has been discontinued. Find similar games here: Hidden Object Games.
Fans of young adult dark fantasy involving romance and vampires will adore Love and Death: Bitten, an online adventure game. It is the tale of a girl, Victoria, who sets out to defeat the vampire Damon, but ends up smitten with him. She finds herself aiding him on his quest that will end a witch's spell and make him human once again. The game is set mostly in the witch Celeste's castle where you will find the keys needed for Damon to be saved from the witch's curse.
You will play as both Victoria and Damon interchangeably. Each character has their weaknesses and strengths. For example, Damon, being a vampire, is unable to go out in the sunshine but can fly up to high areas. You spend most of the game searching for objects in different locations.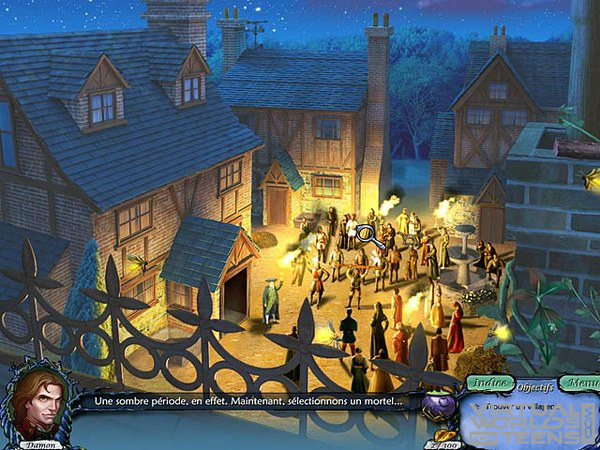 In each object hunt, you will have to find twelve items. Each location is visited multiple times, each time with new items to find. Some of the objects are multiples and others require special actions to locate them. These actions include returning pins to a pin cushion and putting fruit back in a bowl. Each task has a hidden meaning that you have to figure out. There is a rechargeable hint button that you can use when you're stumped.
The game also includes a variety of challenging puzzles which make you think. The hints can help you, but only to a certain extent. The puzzles get more challenging as you progress in the game, and they are very mentally stimulating. You won't always be able to figure out what to do so easily, but once you do, it will all make sense.
There is an optional mini game environment that involves finding the100 golden leaves that are hidden in each environment. The reward is being able to see in the future. There are more than 100 leaves in each level so collecting them all shouldn't be that challenging, and the reward is worth it. You will have to collect other things like cogs for a clock and flowers for a potion throughout the game.
The story is one you would expect from a game that includes an evil witch, a vampire and his love interest. There are various twists and turns, just like a fantasy novel. One of the best things about the game is the art. It is beautifully rendered and fits in well with the theme of the game.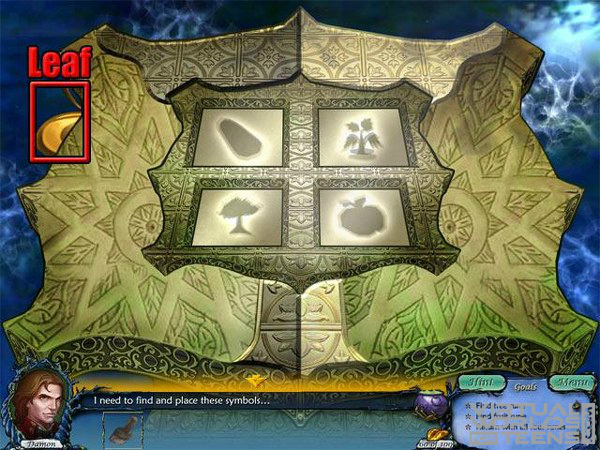 For more screenshots, click here.
This game offers a unique story, challenging gameplay and gorgeous graphics. There are lots of details that fans of vampires and the macabre will enjoy. It combines puzzle elements with action and storytelling for the perfect combination. Fans of role playing games and puzzle games will find this game to be a thrill.
Since there is a big trend of vampires, many teenage girls will find a lot to be interested in as well. The game will draw you in with its story and graphics and keep you around for the mind stimulating gameplay.
Watch more videos on their YouTube channel: Love & Death: Bitten on YouTube.
More Games Like Love & Death: Bitten
NOTE: this game has been discontinued. Find similar games here: Hidden Object Games.
Sooo, did you think this game looks cool? If yes, Like!