Dance games give you the chance to find excitement and love and magic, all in one place. Nowhere is that more true and apparent than Love Dance. Find a love for dancing, music, and others like never before with all that this game has to offer.
A music and dancing rhythm game, it is a lot like what you would imagine. You dance to the beat, hitting the buttons when necessary. If you have played Korean or Japanese dancing games, with characters and exploration, you should know what to expect.
The difference here is that this is set up for smart phones and devices. Unlike most other games, which rely primarily on keyboards, this uses your touch screen. It is a high quality one, too. It plays and feels like a full dance game, with all of the features that you would expect, because it is. It is the type of dance rhythm game that you have wanted to have in your pocket.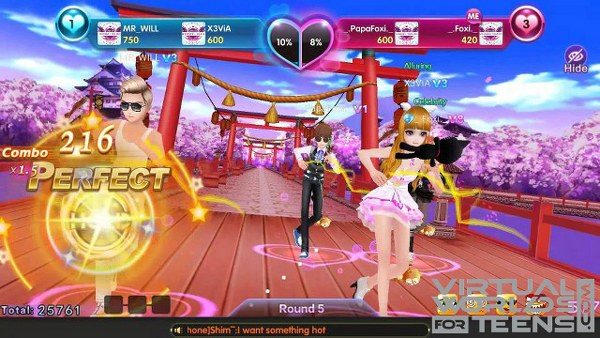 The rhythm part of the game is exactly what you would expect. You hit the specific keys on the screen when they appear and when it is time. With Love Dance, you have two options for this. There is the basic arrow key option and there is the bubble option. With the arrow keys, you use the keys on the screen. As the keys slide by, you hit the ones that match. With the bubbles, you hit them as they appear on screen.
It is a challenge, but a good one. Fit for the touch screen, it plays smoothly and beautifully. It is a lot of fun and the KPop, CPop, and English language music, like hip hop and pop, really add more to it. There is a lot of great music to this game that will make it a joy to play.
As you hit the notes, you are going to watch the characters dance. This includes your own character. The dancing is fully choreographed and looks stunning, primarily thanks to the cute anime style graphics. It will keep you engaged and wanting to watch more of it.
That character is a wonderful part of the game. You can customize your character as you see fit, with whatever clothes, hair, and accessories you want. However you want him or her to look, you can manage it. The full customization helps you to stand out and makes for a more immersive, addictive experience.
For more screenshots, click here.
You can enjoy what others have done to their characters, too. Since there is a social feature to the game, like most music games, you can see what others have done. When socializing, you can even find someone to marry, giving you added boosts in game.
There is a lot more to Love Dance, including a pet system. It is a fully realized dance game on mobile smart devices. It is beautiful and addictive, and it is everything you want out of any dance game. You will love it and want to play for as long as you can.
Watch more videos on their YouTube channel: Love Dance on YouTube.
Love Dance is free to play.
Sooo, did you think this game looks cool? If yes, Like!