Love and Order's name tells you a little about the game. As you can tell, it is a play on Law and Order, but with a lovely twist. You are part of a legal team and you will be handling cases, all while meeting your four possible suitors. You will be dealing with love and law while trying to juggle it all flawlessly.
While this might seem like a lot in real life, it is actually quite manageable in this game. Not only manageable, but also entertaining. With its humor and attractive anime style art, you are sure to fall in love with this story. It will enchant you and have you falling for this goofy and strange legal team, and system, over and over again.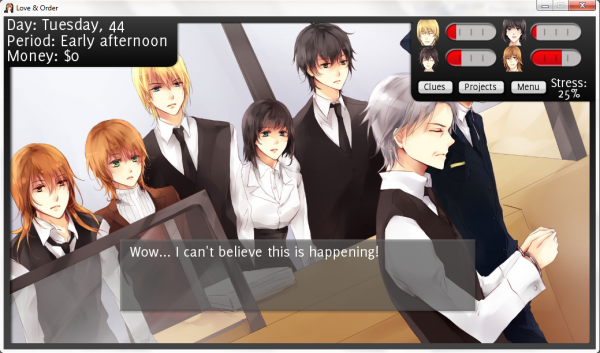 As part of the legal team, it is your job to deal with the many cases out there. You are going to have to navigate through them successfully to continue on with the game. If you are worried about a lot of legal language and boring paperwork, do not be. You may be on the legal team, but this is still a game. You are going to be playing only the interesting parts of the case, not the boring and work parts.
For that, you can depend on the team behind the scenes when you are not playing. The cases are also far from what you might imagine. They are more interesting and humorous, giving you something more than a mystery game. This takes what you know about these types of games and turns it around.
This is also a dating sims game. As you go through the game, you are going to be meeting with and growing attached to the various members of your team. You will be able to form bonds and relationships. As you do this, your ending will change. There are multiple possible endings so you will have to continue to play if you want to see them all. If you do, you will be able to see all that is possible and have more and more fun.
Love and Order does offer quite a bit of humor, as stated. This game is meant to be fun and engaging, not boring and serious. You are supposed to have fun with the cases and with the dating, giving you something more to enjoy than just picking a suitor. As the game goes on, you will get to have fun, laugh, and find more in this game to love than just the dating.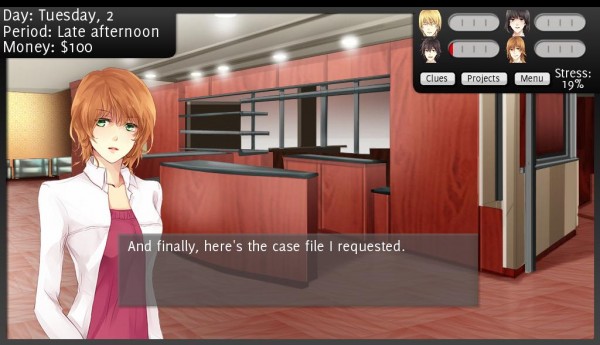 For more screenshots, click here.
As you play, you have beautiful anime style art to enjoy. This game offers appealing art that is sure to improve your gaming and make playing more attractive. This will help you to become more interested in the game and continue to play and replay as long as you would like to.
If you do continue to play, remember that there are various options. You do not have to do the same things over and over. You will get to unlock new stories and endings until you have seen everything, which is very possible.
Watch more videos on their YouTube channel: Love and Order on YouTube.
Love and Order is free to play. Fall in love over and over again, there are tons of visual novels for you check out on our Flirting Games.
Sooo, did you think this game looks cool? If yes, Like!