Littlest Pet Shop: The Mobile Game That's All About Pets
Littlest Pet Shop is the creation of Electronic Arts which is an inspired by Hasbro's pet toys. Get immersed in this new Littlest Pet Shop that has made it to your mobile device.
Game Features
You will be helping Blythe and her friends Penny, Russell, Minka, Pepper, Sunil, Zoe and Vinnie adopt pets, care for them and entertain them!
Collect 150 pets from dogs to bears and cats to horses
Play with them, feed them and even give them baths
Build and develop play areas and homes to welcome and entertain all your little pets
Find hidden objects around town and visit your friends.
Littlest Pet Shop is free to play and is very popular with girls. They dress up their new little friends, take care of them and buy more pets! The idea of the game is to unlock and get every adorable pet in the game.
How about a puppy who looks like a panda or an ever so cute pink poodle? That's just two of so many adorable pets!
Gameplay
This game is really easy to play because it comes with a great tutorial that will help you get started and it's really easy to building your city of pets.
You can buy great items from the shop to decorate everything within the game. Here is a list of the awesome things available for you:
Pets
These are obviously the main objection to the game for you to collect There is a large range of pets from horses, cats, dogs, birds and so on. There are over 150 pets to collect, while 30 of them are absolutely  unique. The other pets are repeat breeds but are different in colors.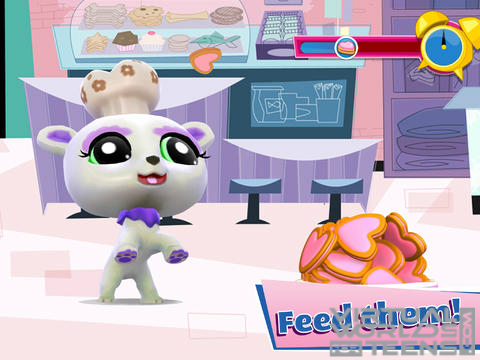 Houses
These homes are for your pets to live in.
Fun Houses
These fun houses are places where your pets can play and be entertained.
Play Areas
You can decorate these areas and make them really unique.
Locations
Are dazzling background wallpapers
This game is just choked loaded with lots of things to do from washing your pets, blow drying them and playing. There are just so many things to do and have a lot of fun along the way!
For more screenshots, click here.
Graphics
The colors are rich and absolutely gorgeous, the graphics are just adorable and all in all, they are simply perfect! You would have to be hard pressed to not see how well developed the game and without doubt, so female oriented.
Sounds
The sound effects are all there with a subtle soundtrack.
Summary
This game will definitely capture the hears of girls and is simply adorable! The game plays on candy cane colors and other wonderful colors that obviously target the female audience. Boys will probably not be as attracted to the game unless they are into collecting pets.
Every aspect of this game is high quality and is superbly developed. The targeted audience absolutely adore Littlest Pet Shop. If you like collecting and building and enjoy games like Nintendog, you are going to love this game!
If this game is for you, grab your friends and come on over and have ball collecting adorable pets, building their homes and dressing them up!
Watch more videos on their YouTube channel: Littlest Pet Shop on YouTube.
Littlest Pet Shop is free to play.
Sooo, did you think this game looks cool? If yes, Like!