Life is tough, isn't it? Each day is limited and you only have so much money to spend. There are too many questions about life that can confuse you as well as frustrate you. Join Life Quest 2: Metropoville to get some answers and also to match it to your real for some accurate decisions!
The game starts off with a character that wants to leave a bad neighborhood behind and start a new life from the scratch. This is how you reach Metropoville, which is a town. Here there is a 12-step program following which, you will be able to lead the perfect life. There is a lot to do in this town but the stipulation is that you have limited time.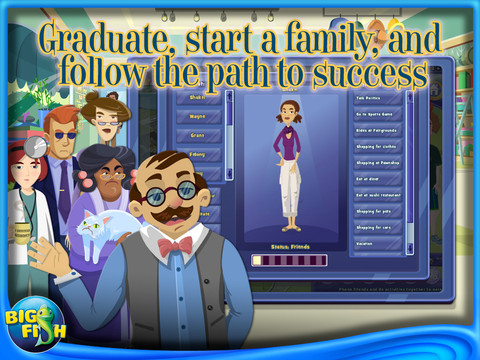 If you have already played Life Quest, you will be familiar with gameplay of this sequel because it has more or less been replicated. Throughout the game you should be able to manage your time while making sure that your happiness rating is high. You have a number of missions and the game is spread over hundred days. There is also a tutorial to help you out initially.
The characters may be bright and the game may have a light-hearted tone but know that this is a very challenging and deep game. You need a lot of strategy to be able to finish all your 12 goals in a mere 100 days. You should be able to manage your time really well to be able to accomplish your goals
. Each day, you will have a set number of time units. You can expand them for the gym though. If you take intelligence tests first, the other classes will be shorter. Another aspect to this game is the humor. It is sarcastic and everyone tends to yank your chains including your fitness club instructor. There are also meme references in the game, which will keep you entertained.
For more screenshots, click here.
The fact that it is very much similar to real life is one downside for many. While you can enjoy a lot and learn tremendously, there might come a time when it is like real life: wake up, work, eat, sleep, and don't forget all your duties such as picking up the kids and depositing money in the bank.
The game is deep and challenging and if you are up for it, you will be soaked into the game for hours together.
Life Quest 2: Metropoville is free to play.
Sooo, did you think this game looks cool? If yes, Like!