Most people know Lego. Maybe you grew up with them or you know people who did, but you know them. These days, the potential with Lego is incredible and unimaginable – to the point that it is online. Yes, you can play with Legos online. Lego Worlds gives you everything you expect of a Lego world, including mini figures and creative builds and everything else you know from this brand. There is always something for you to see, explore, do, and, obviously, build in this wonderful world. With the new multiplayer addition, you can play alongside your friends, too. Get your creativity flowing like never before.
It's not all just free-form fun. There are some small quests you'll need to do right at the beginning that teach you how to play the game. But once you're past the first few quests, it's up to you to decide what to do next. You'll meet lots of other Lego figures while you explore, and many of them will have mini quests for you to complete. But you don't have to do these quests if you don't want to.
Obviously, you are going to have to draw some similarities to Minecraft. Truthfully, there are a lot of things similar about them. Minecraft was made to be like Lego, giving you something that you already know. Now that Lego has gone online, its approach and setup will feel like the massively popular Minecraft, but only a bit. Lego stands on its own perfectly fine. It offers features and gameplay unique to itself, with similarities stopping at destroy, build, and battle. The specifics of the game are entirely its own and make it a unique title, giving you a world you would expect with Lego.
Destroy and build are what you know. Lego Worlds gives you everything you need to build everything you want. The multi-tool and your creativity will come in handy as you tear down landscapes, create new landscapes, and create everything you want to see. Whether you go for a friendly neighborhood or absolute chaos, you can make it happy.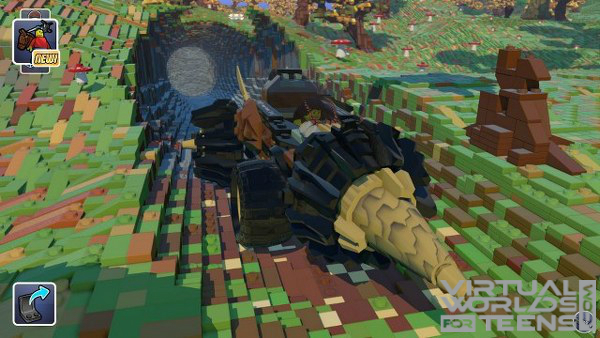 Several environments exist for building. Jungle, desert, and arctic are merely a few of them, each offering their own appearances and sights. What you can see and do in one is completely different from what you can see and do in another.
Building in Lego Worlds is exactly like building with Legos in real life. You will have to collect certain pieces and then put them together like a puzzle. See your creative juices flow through, making some amazing buildings and structures. You can even find some special collectible pieces to help you do everything you can imagine.
For more screenshots, click here.
Anyone who loves Lego sets, old and new, will love the fact that this game has pre-built sets ready to use. If you have a favorite set that you would like to bring into your little world, you can bring it. Put it where you want it, play with it, and show it off.
Numerous other features are found throughout the game, too. Customizable mini figures and online multiplayer are just a couple features you can expect. They all make for an enriching, engaging experience that you will absolutely love.
If you like Lego, Minecraft, or sandbox games, Lego Worlds is one to play. It quickly grabs your attention and heart with the nostalgia, but it is the excellent game design, features, and gameplay that make it worth every second that you spend playing it and exploring.
Watch more videos on their YouTube channel: Lego Worlds on YouTube.
Sooo, did you think this game looks cool? If yes, Like!