Two popular video game franchises have merged to bring us the ultimate experience. Lego Rock Band is game built to take you on a journey to "Build a Band and Rock the Universe". You are able to create your own rock star style by customizing your avatars, band, roadies, and managers and having a full on experience of the rock star life. As you complete levels and challenges, you will collect LEGO studs that give you the power to unlock amazing content like collecting awesome vehicles to take you to star-studded events.
Lego Rock Band has several amazing features to make game play an ultimate experience. You can use Rock Band instrument controllers as well as Guitar Hero and other licensed music video game tools to play the game. The game offers many classic and current hits for your family to enjoy.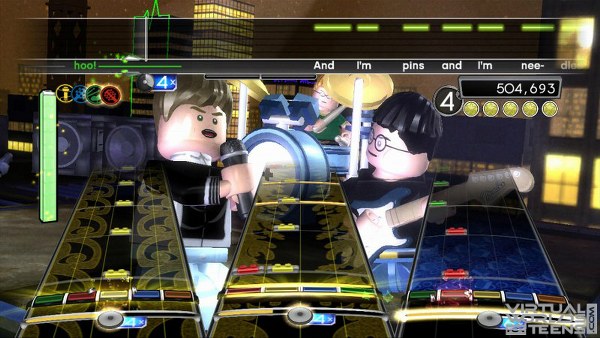 As the game progresses, collecting studs will help you advance in levels, perform at new venues, and unlock new and exciting characters. Compete in crazy LEGO themed power challenges and defeat the Giant Octopus, or demolish a skyscraper. You can decorate and style your personal Rock Den any way you like, and create and customize your own rock band.
If you are knew to rocking out on the game console, the super easy setting will help you to get the swing of things. This game is for people of all ages. You are never too young or too old to enjoy the amazing features of Lego Rock Band. The experience is one that you will definitely not want to miss.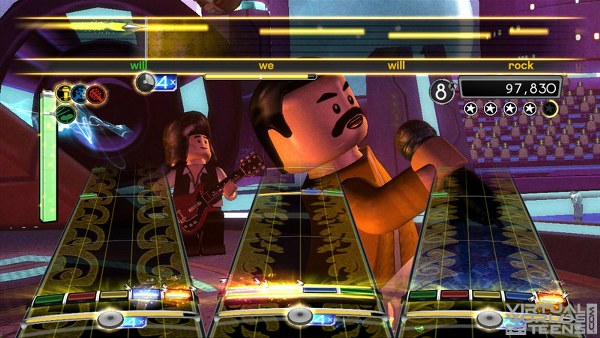 The merging of the two game experiences makes Lego Rock Band a super, hot way to get your rock on! Perfect for solo play and team play the game will take you on a journey to new heights. Play with your buddies and compete challenges to win studs and make the experience one you will never forget.
Lego Rock Band is a great game! It takes the cake compared to a lot of the rocking games out there on the market. You can take a creative leap into the world of music and reach levels of fun that you have never imagined. What better way to spend a Saturday night then traveling the world with your very own rock band, hitting the hottest venues in town.
For more screenshots, click here.
Playing Lego Rock Band will make you want to get out there and start a band of your own. There is no telling what you will imagine doing after playing the jammed packed fun game! Play the game with your friends or make it a family affair, no matter who you play with you are sure to have a promising experience.
Lego Rock Band is great fun for the whole family! Gather all you music controllers from various games and a microphone and get ready to rock out with the LEGO clan and have a fantastic night of music and the challenge of reaching levels you have never reached before!
Watch more videos on their YouTube channel: Lego Rock Band on YouTube.
Sooo, did you think this game looks cool? If yes, Like!