Kudos 2 is a completely accessible life simulation game where you will have a chance to create your very own alter ego and decide what your life path will take during a 10 year time frame starting at age 20 and ending at age 30.
You could compare Kudos 2 to The Sims, but it actually has more in common with Cute Knight. Kudos 2 has a simpler menu type of gameplay where with other types of simulation worlds, you have to mess around with furniture and make your Sim go from one place to another.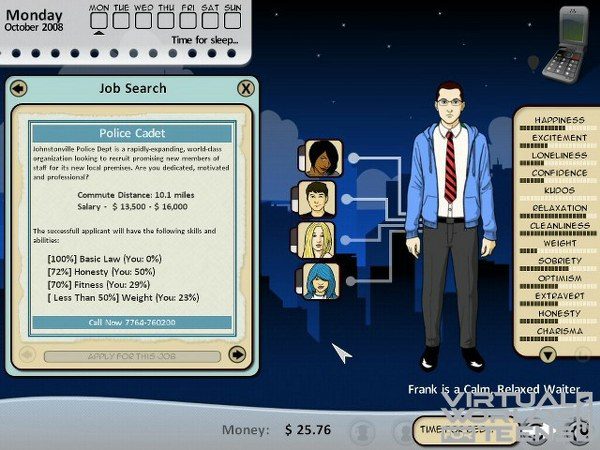 You will start out by picking a character from 6 female and 6 male character templates, then you will be able to customize the features such as clothing, hair, hometown, and even what type of currency you want to use such as Dollar, Pound or Euro. Each character will start out at 20 years old who has a low paying job and no education. It is from here that all of your decisions about how your character will spend the next 10 years is completely up to you, including where they work, what is purchased, who they socialize with, and what they will do for fun.
For instance, your character wants to be a police officer, so you will need to put them on a fitness routine several times a week and enroll them in a basic night school for law and prepare your character to enter the police academy.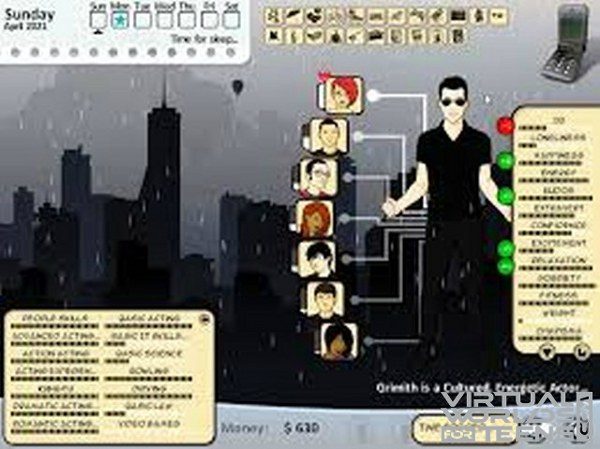 Every week day, your character will have to go to work to earn money to spend. This is not the most interesting part, except the fact that you will have only a few choices about how they get there. During weekends and the evenings, you will decide how your character will spend their free time. There are so many possibilities for things to do, and more will become available based on how your character evolves and who you meet. You can do on your own activities such as cleaning your house, taking classes, or watching television, or you can meet up with a group of friends and have drinks at the pub, go to a museum, or watch a movie together. Each activity will have an effect on your character indicators such as happiness, sobriety, optimism, loneliness, relaxation, honesty and cleanliness.
You also have the option to spend your extra money to get cable television, pets, order maid services to keep your home clean, or purchase books you can read that will increase certain stats of your character. Your game will keep track of your friends, and friends of friends for you. Friends will often invite you to come spend time with them, or you can take time and organize social events and pick which friends to invite by putting their picture into your activity window. Sometimes character traits for your friends will rub off onto your character which can cause you to lose trait points.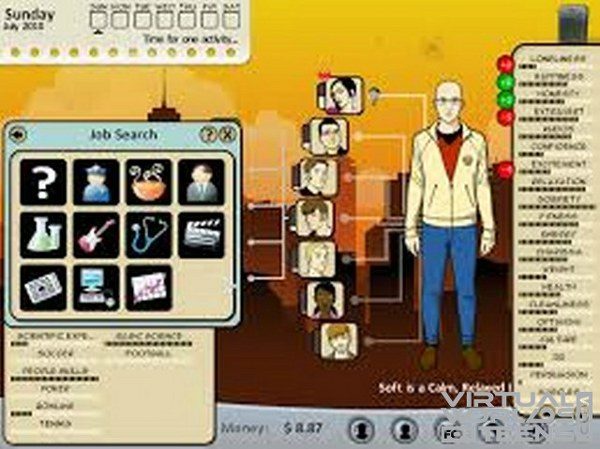 For more screenshots, click here.
If you are too tired, you won't be able to do certain physical activities. If you socialize with your friends while you are in a bad mood, they won't be impressed and you can offend them. If you don't bathe often enough, little flies start buzzing over you. If your house is dirty, your character will get depressed and stressed out. If you have a cold and go to an interview, you will get rejected because you coughed on the interviewer.
It is the little touches in this game that make it a worthwhile investment for those who have a big power trip. The real trick for Kudos 2, is that it is getting you to spend time doing the stuff you really don't want to do in real life and actually enjoying them. There may not be a lot of thrills, but after just 20 minutes, you will be hooked.
Watch more videos on their YouTube channel: Kudos 2 on YouTube.
Sooo, did you think this game looks cool? If yes, Like!