Kuboo is a world for kids that gives parents full control. When you play the game, you can get involved with sports, puzzles, home decoration, and much more, and all while keeping the parents happy.
The parents are going to have the ability to control to what you have access, which means that they can keep it appropriate for your age or they can make sure that you do not get into anything that you should not. It is a safe and enjoyable game for all ages that is directed towards the younger crowd, and the activities make sure that everyone is enjoying themselves in the game.
Before you get into the world, you are going to start out with your home. Kuboo has a rather neat home set up for all players that you can control. This is your place and it is sort of like your very own headquarters that you can design. Using the items available, which you can purchase as you continue to play, you have the chance to decorate however you want to decorate. If you want to just play around with items, you can. If you want to get a theme going, you can. There is no stopping you once you get into your design.
In your home, you have the ability to watch videos. You can watch these videos on a flat screen that comes with the home, and the videos that you watch on it are all appropriate.
Parents can control access to these videos to make sure that you are watching the ones that are right for you, too, so that there are no worries regarding what you are watching. Having this type of control ensures that the experience is appropriate for all ages and that no parent is worried when their child hops online to play some games.
The activities in Kuboo are extraordinary. Going from sports to puzzles and keep going, testing your skills and having fun. You can do almost anything here without having to go far. This exciting world gives you soccer, skiing, brain teasers, skateboarding, and so much more. If you want to get out there and experience something new right away, this is where you should go.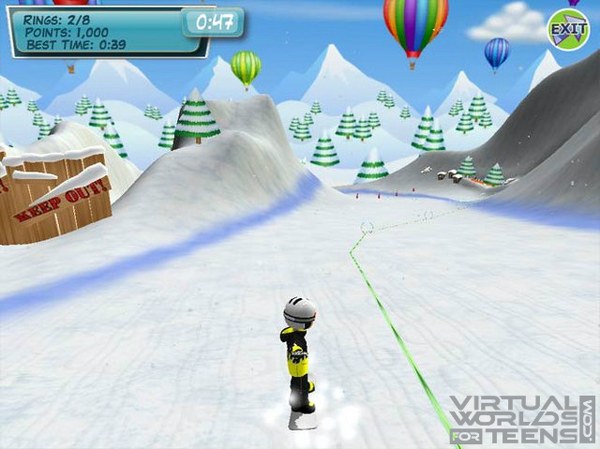 For more screenshots, click here.
Get into activities that you never thought you could do, improving your skills at them while having plenty of fun along the way. Remember to earn some of the in game currency, too, so that you can buy more items for your home.
Moving forward from the gameplay, the game looks great graphically as well. The game has great 3D graphics and everything in the world has a great amount of detail to it. The textures have a good amount of shading to them and nothing looks or seems outdated so the game is a visual success as well. As for the background music, it is extremely fitting with what the theme of the game is and is nothing too heavy, just light music that blends in perfectly with how you're playing the game.
Kuboo is a social game, as well. You can talk with others in a friendly, safe environment, and your parents can actually control your communication. They can manage it all so that they know that you are talking appropriately and with people they see as appropriate. Everyone can have peace of mind without sacrificing the entertainment and social features that are available here. You can still meet new people, make friends, play games, and see this wonderful virtual world, just while keeping your parents satisfied at the same time.
Watch more videos on their YouTube channel: Kuboo on YouTube.
Sooo, did you think this game looks cool? If yes, Like!