A game of adventure!
Let's create the ultimate character to venture out through the long lost ruins and explore the underground tunnels as well as combing the large fields! This awesome game is based on mythical Indian Culture. You can play this game for free either on a social network or on your computer browser.
You can create a character from a Raven (master of frost), Bear (master of fire element), or Badger (master of stone). The Raven is a taciturn and is a solitary race. This character is very spiritual and drawn to the spirit world and is united with others by frost. Badgers live the simple life by making their homes out of fur and love to move around and join other tribes along their journey.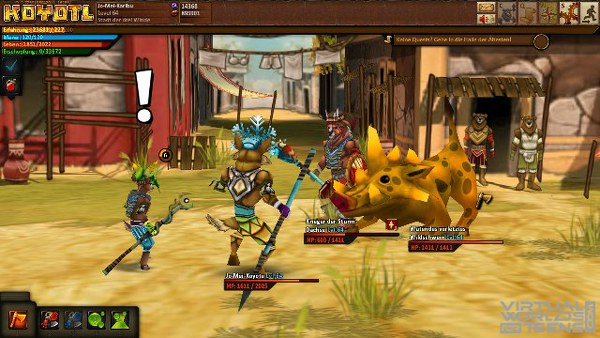 Their element is stone! Lastly, the Bear very friendly and homely and strong. Their element is fire and it is not easy to disturb them. Premium warriors are Coyotes are masters of lightning and Caribous are masters of acid.
Now that you have chosen what type of warrior you would like to be it is time to join the battle against Koyotl. You will be thrust into the world of Three Winds. In this world you will have many quests you will have to complete. While you are going through each task you will collect various types of weapons, potions, armor, energy, and rewards to help you complete your next quest.
The story begins when you have to go to your village to help because they are being attacked! Their homes are being burned to the ground. You objective are to defeat Koyotl and help keep the five elements from his clutches. You will have a battle of your life trying to save the villagers from the evil villain. HURRY!!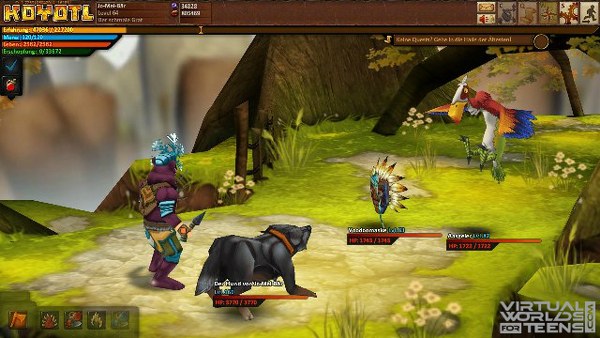 You will be instructed where to go by various races that is on your side so you can help defeat the bad guys.
Combat in Koyotl is turn based and takes place on a separate screen to the game world. Players are able to select between their basic attack or one of the skills they've unlocked which cost mana. Battles can contain multiple enemies and even extra allies. PvP combat is also available through the arena for players that want to test their character against other players.
The world of Koyotl is a world that is filled with fantasy and spirits. You will have to battle creatures and golems. Do not forget there will be danger lurking just around the corner. The journey will take you through a wilderness that will test your strengths and weakness and continue on your adventure into some very scary and dangerous caves.
For more screenshots, click here.
STAY ALERT!! Many of the mystical creatures and Magma Golems or spirits may have woken up on the wrong side of the bed and they are looking for someone to take it out on. That something may be you!
As time goes by you will become accustom to the ways of the wilderness and begin to learn where and how these evil creatures will attack. If you need help or advice the mythical ghost of the past can assist you!
A you travel on your journey you may find that you will acquire a side-kick along the way. If you do, bid yourself lucky because this side-kick can help you kick the tail of the creatures you will encounter.
Come help us defeat the evil Koyotl and save the villagers!
Watch more videos on their YouTube channel: Koyotl on YouTube.
Koyotl is free to play.
Sooo, did you think this game looks cool? If yes, Like!