NOTE: this game has been discontinued. Find similar games here: Simulations.
Get ready for KinderDragons. This is a free to play dragon breeding MMO where you will have a chance to build your very own team of dragons and battle against other people. You will also have the chance to build various types of buildings that you will need. It is similar to Pokémon meets city building.
You will start out on your very own floating island, which is completely blank that you will be able to construct your buildings such as hatcheries for hatching eggs, incubators for dragon breeding, farms for dragon food, and nests to hold the dragons. Those are the only buildings that will need to be built during your gaming. There are other types of buildings such as specialist buildings and a few decorative buildings but that is about it.
During your gaming, you will have NPC (non-playing characters) give you quests that will help to guide you on what you need to build, which tasks that need to be done and which order it needs to be done in as well as resource requirements and the time to build, breed, and hatch the number of dragons needed will keep you busy as you try to earn as many Gems as possible.
There is a variety of dragons that you can breed. There are 4 main dragon types which are Rock, Fire, Water and Plant and you can breed various types of dragons to create a unique dragon such as a fire dragon with a water dragon will give you a cloud dragon. You can also purchase dragon eggs from the store but the more premium dragons either need to be breaded to get or you have to pay a lot of Gems for them. There are a lot of dragon combinations that you can make.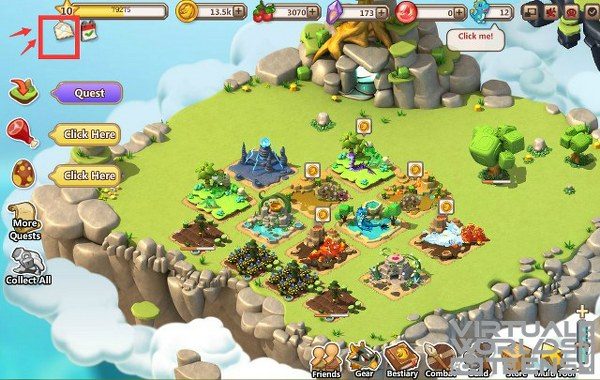 Once you reach level 7, you will be able to unlock the PvP mode. Combat mode is a tournament and you can earn gold and gems if you win, which looked great and is a good way to get pass the blocks because everything is locked during building times. You will have to pick 3 of your dragons to take into battle and then they are paired with a random player. The combat is automated and only last a few seconds as the dragon's attack each other. The only thing is that the PvP has a long cool down time, so that players don't start to abuse the system.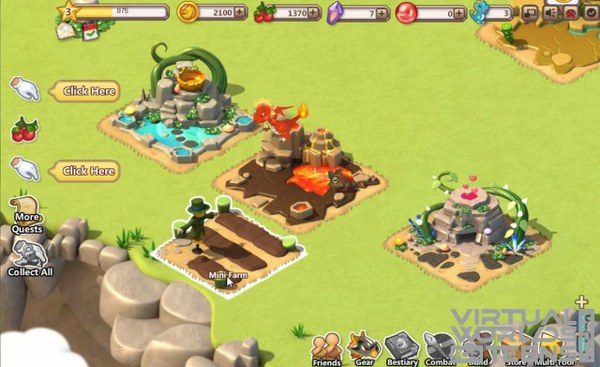 For more screenshots, click here.
The game is a great game, the graphics are really cute, colorful and great for a Facebook game. Everything is easy to understand and even though the gameplay can be a bit repetitive, but overall it really keeps you busy when you are working hard to build your incubators and hatcheries. It does take a bit longer to hatch your eggs. It is a great casual game that is perfect for all ages and for those who are looking for something that can keep you killing time while you work on making great dragons.
Watch more videos on their YouTube channel: KinderDragons on YouTube.
KinderDragons is free to play.
NOTE: this game has been discontinued. Find similar games here: Simulations.
Sooo, did you think this game looks cool? If yes, Like!