Konami has come out with a great singing game called Karaoke Revolution. This game is game puts the Dance Dance Revolution game in its place. You are probably wondering how the game works? Well that's simple! Pick you song, pick up your microphone and get ready to blow your audience away.
The game effectively measures your pitch against the correct pitch giving you points for hitting the notes correctly. So basically your goal is to stay consistent with your vocals in order to rack up points. The higher the difficulty setting you pick, the harder it is to get points, so it is pertinent to maintain better accuracy. You are able to sing in whatever octave you choose as well, because the computer searches for the proper tonality, making it easier for the men to sing in their natural tones.
When playing Karaoke Revolution, keep in mind that the voice analysis and pitch are pretty accurate. The recognition of words however is not so picky. You could make up your own words but make sure to stay on pitch and you are sure to keep racking the points. How cool is that?
Karaoke Revolution has some great graphic capabilities with great avatars that capture the moves of a real performer, growing crowds as you gain popularity, and lighting effects in the background. The game also offers a free singing mode where you can sing without being judged. If you want to sing in challenge mode be sure and sing your heart out. If you are a natural as far as pitch goes, you can hum your way on through the game, but for someone who is not so singer savvy, getting points may prove to be a little tricky.
Karaoke Revolution is a multi-player game. This means you can have a ball at home with the family or even at a party or wedding. Whatever the occasion, Karaoke Revolution is sure to bring you hours of fun and excitement. Multi-Player mode can accommodate up to eight players.
The mic is passed around from player to player and scores are kept for you and all of your singing buddies. You want to go on a journey to see who takes the cake in Karaoke stardom. This game is what you need. Karaoke Revolution is the best Karaoke game on the market.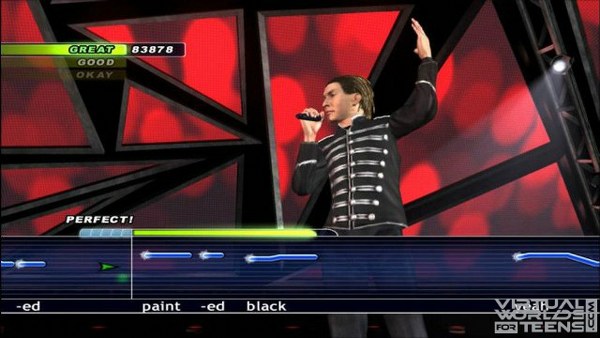 For more screenshots, click here.
With great graphics, multi-player capabilities, and endless hours of fun, you are sure to have a great time rocking with your friends and singing your heart out! Karaoke Revolution is the ultimate experience. No matter what age you are or how much you know about singing, Karaoke Revolution can be fun for anyone.
Make Karaoke a part of your family fun night. Take it with you to your wedding reception. Plug it in at your kid's birthday party and get ready to see the kids go crazy with excitement. Karaoke is not just a game for a bar, or a club. Karaoke can be fun for anyone who loves to sing or loves to entertain and have a good time.
Watch more videos on their YouTube channel: Karaoke Revolution on YouTube.
Sooo, did you think this game looks cool? If yes, Like!