Kapi Farm is a cool farming game where you will plant things to level up and unlock items. You start out the game by planting radishes. As you grow plants and buy seeds your salary will increase and you will level up. Every time you level up you will have the opportunity to plant new seeds and different plants.
As you do this, customers will start to visit the farm to purchase your plants. By satisfying your customer's requests you will earn "kapitalary" which is the salary in this game. As you continue game play you will earn your way to opening up a market with even more earning potential.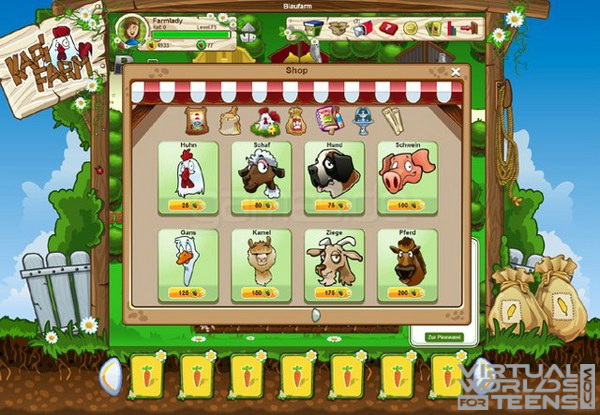 Kapi Farm lets you be the head of your own farm. Are you familiar with the farming process? No, problem because you will fit right in in this game. This game is sure to bring some fun and excitement to people of all ages. If you want to be the head of your own farm and think you have what it takes to make it to the top of your earning potential then this is the game for you. You will start from the bottom planting seeds and eventually make it to the top of your game running your very own market.
With Kapi Farm you can even be a cook in your own kitchen. Once you reach level 20 you will be able to start using your own produce to make delicious recipes for your family. The opportunities are endless on Kapi Farm.
From farming to running your market and even cooking up delicious recipes, you are sure to have a lot of fun while you play the game. You have the potential to see what the real farmers do and see if you can handle the workload. Once you get the hang of things you'll be passing through levels in no time.
You will also have the ability to hire helpers in the kitchen. By doing this you will receive a prize and your helpers will get reputation points. The object in this game is earning points and money that will help you to advance levels. Every time you advance new opportunities will arise.
For more screenshots, click here.
If you are not already playing Kapi Farm you are truly missing out on a very fun game. You will have fun for hours along with your friends playing Kapi Farm. The game play is rather easy to do and the challenge comes in doing the amount of work needed in the quest to unlock new buildings.
As you do this you will see all kinds of new things unfold before your eyes. Kapi Farm is sure to bring you an endless day of fun and the excitement never ends. Get ready to try your luck out as a Farmer in this awesome game from Upjers. You are sure to have the time of your life farming your way through Kapi Farm. Bring your friends along and get ready for a day of fun!
Watch more videos on their YouTube channel: Kapi Farm on YouTube.
Kapi Farm is free to play.
Sooo, did you think this game looks cool? If yes, Like!