If you ever wanted a chance to just hangout and watch videos with your friends or even with people from all over the world, then you are in for a real treat with Jumbo Cinema. This is a virtual movie theater where you can watch videos from YouTube live and then share them with other people.
Jumbo Cinema is the one place where you can be who you want and watch movies with all of your friends. The first thing that you notice when logging in is that you are able to create your very own character.
You can pick if you want to be a boy or girl and then design the look how you want. Choose skin color, hair style and color, and even what type of clothes to wear.  You have a chance to sign in using Facebook, Google, or you can enter this virtual movie theater as a guest.
Once you enter the Jumbo Cinema world you have a chance to hangout outside of the movie theater and chat with new people or you can even head over to the lobby to play minigames with your friends. There are three worlds that you can enter, the entrance, lobby and theater. Each one has its own unique look and you can certainly have a blast with friends from all over the world.
In the lobby you are able to play mini-games like Cave Run where you have to collect as many coins as you can as you jump rocks, gysers of lava, and big cliffs. You can even play Rocket Man where you have to collect gems and avoid all the obstacles. If you hit something you will land in water and it will be game over. There is even a Zombie game where you have to defend your town from the zombies or you can play a simple shooting target game. Each one will earn you points and the goal is to get the highest score possible.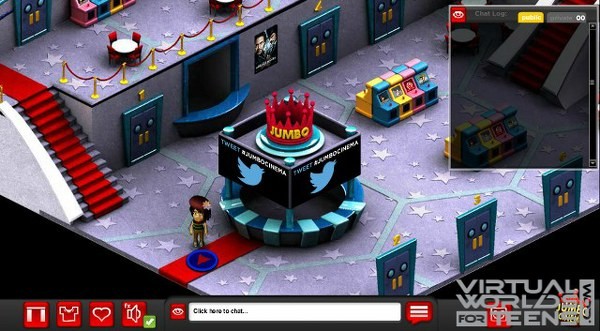 For more screenshots, click here.
When you enter the theater area, you can view videos from YouTube with your friends or people from all over the world. The videos can be different and vary from theater to theater. You can even create your own theater where you can watch videos with your friends. There are really cool emoticons that you can use when you chat and even signs that you can hold up. The one feature that everyone likes is the popcorn feature. You can feed yourself popcorn or you can throw it at people.
Watch more videos on their YouTube channel: Jumbo Cinema on YouTube.
Jumbo Cinema is free to play.
Sooo, did you think this game looks cool? If yes, Like!