NOTE: this game has been discontinued. Find similar games here: Social Worlds.
This is a mobile application that you can use on your iPhone to access the IMVU network. Using this application you will be able to send and receive messages, text chat, accept buddy requests, upload new pictures and more.
Many people enjoy the IMVU network because you can create your own custom avatar and then meet new friends online in a new environment. Once you create an established group of friends however, it is nice to be able to contact them from your mobile phone or when you are on the go.
Trading gifts can also be done using the IMVU 2 Go app. One of the big parts of the IMVU experience is earning points and trading gifts with your friends so that you can customize your online spaces and avatars in the game. If you can establish a good network of friends you will be able to send more gifts and get more gifts throughout your day. With the on the go application you work to manage your friends much better and also send gifts even when you are away from your computer. Imagine being able to receive gifts in class or when you are out running errands.
Some of the other notifications are very helpful to have on your mobile phone too. The birthday notifications can help you to keep track of all of your friends and family birthdays and these notifications will alert you on the day that it is someone's birthday. Notifications from the game can also let you know what to expect when you log in online. Although you can't access your entire profile from the mobile application, most of the changes that you may need to make, and just about anything that happens in the IMVU universe you will know about thanks to this application.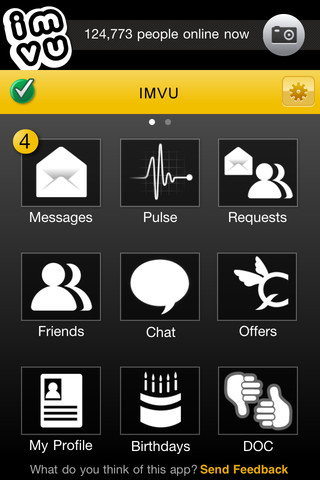 Just by downloading the IMVU 2 Go app you can get up to 500 free credits which you can use to spend in the IMVU store on items that you can use within the game or items for your avatar. This is incentive enough to check out the application as earning that many points can take time.
IMVU 2 Go can also have some great benefits when you are using IMVU online. Sometimes carrying on multiple conversations or private conversations can be kind of hard using just the pc based app. With the app on your phone you can carry on a few conversations and also privately message people while you are in the game. This can help you to free up space in the app and keep track of more conversations as you play.
Being able to vote on the daily outfit competition from your phone is also a fun way to spend some time if you want a quick activity to do on the go.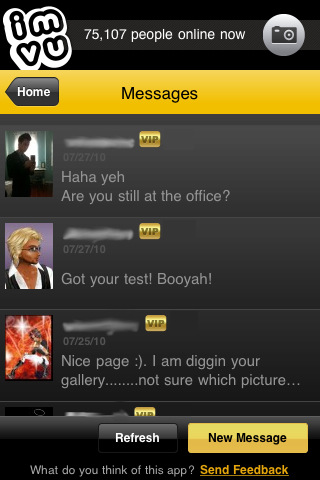 For more screenshots, click here.
If you are a fan of IMVU, there is no reason why you shouldn't download IMVU 2 Go if your phone can support it. Having access to the IMVU universe and the extra coins you get for sending messages using the app are great reasons to try it.
Watch more videos on their YouTube channel: IMVU 2 Go on YouTube.
IMVU 2 Go is free to play.
NOTE: this game has been discontinued. Find similar games here: Social Worlds.
Sooo, did you think this game looks cool? If yes, Like!