NOTE: this game has been discontinued. Find similar games here: Fashion.
Does the idea of mixing fashion with a virtual world sound absolutely amazing to you? Then i-Dressup is for you!
After you first sign in and create your account, you get to build your own unique profile.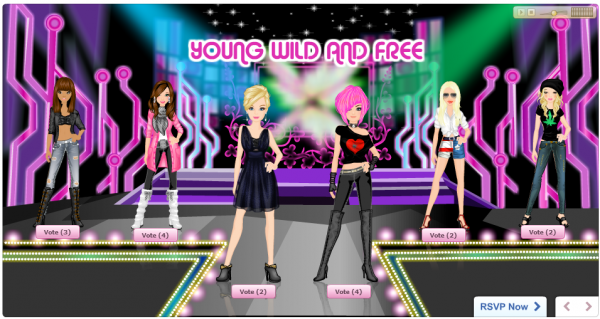 You then begin exploring this amazing community! You can dress up dolls in the latest in fashion or even design your own accessories and clothing. To find new items for your dolls, you can peruse the shops on Fashion Avenue, and let your avatar try on clothes and buy things. The site is constantly updating, which means i-Dressup is always on the cutting edge of fashion!
Running off of flash, i-Dressup also features a variety of other "areas" where you can hang out or play games. You can create your own blog, viewable to friends or the public depending on how you set it up, and play avariety of games. And, if you're looking to make some extra cash, you can sell your clothes on the site as well, and buy other people's pre-owned items.
For more screenshots, click here.
As you make friends online, or talk your real-life friends into joining, you get to share your designs and ideas with them, and see what they're up to as well! The site has an entire news-feed, so if your friend Becky creates an awesome new pair of boots, you get to see it when you log in! Whether you're in it for the social aspect or you want to try out clothes without actually spending your allowance, i-Dressup has something for everyone!
i-Dressup is free to play.
NOTE: this game has been discontinued. Find similar games here: Fashion.
Sooo, did you think this game looks cool? If yes, Like!