Prepare for the fun of Hollywood U: Rising Stars as you were just accepted into Hollywood University, which is a school focused on rising stars. So get your bags packed, an adventure of fame, fortune, and of course romance is waiting for you!
Available on mobile devices, you will be able to choose the path to fame you desire, from a Movie Star, Director or Fashionista. This means you are going to be able to play according to your interests in clothing, music, or movies!
Next, you are going to dress for the occasion – The Red Carpet! There are many options to choose from, which can sometimes make things hard to choose.
Celebrity dating is another activity you will be doing, from taking a date to the Red Carpet, to building full blown relationship or jetting to Vegas baby!
Show the world why you belong on the A-list by showing a blockbuster and build an entourage of action heroes, reality TV stars, and the list just keeps going!
You are going to love being able to customize so many aspects of your adventure, starting with the role of the guy or girl and choosing your path. After your focus and gender are determined, you are going to choose your avatars basic appearance, giving you the ability to really express yourself within the game.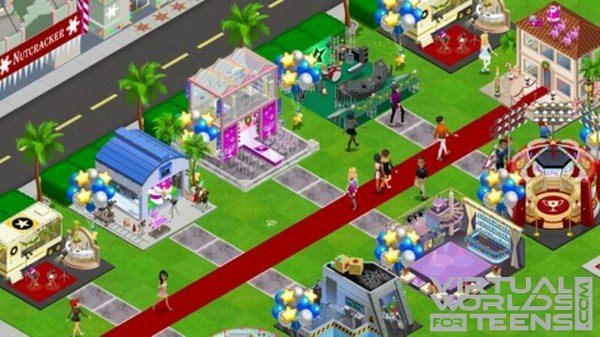 You will jump straight into the university student life and be greeted by a senior classmate directing you to the dorm for your specialty. After getting settled is when you start creating an entourage and really get into the action. You will use the help of friends for obtaining your status of fame, from virtual friends to real life friends that you can invite from Facebook.
You will have to purchase new outfits as you build in-game relationships and audition for various roles or doing gigs for cash to get ahead in Hollywood U. There are quests to do, and various adventures to go on that will keep you busy between leveling up your fame and advancing through the storyline to create a balanced gameplay.
For more screenshots, click here.
If you have found other titles with similar gameplay to be fun, where you get to choose what you do, what path to take and how you interact with the storyline, then Hollywood U: Rising Stars is one that you do not want to miss out on!
You are going to be able to conquer the University after creating your entourage, customizing your appearance, and choosing the bet outfits to make sure you stick out. You will receive rewards as you level up and complete quests, and invite friends to join you, available on Android and IOS devices.
Watch more videos on their YouTube channel: Hollywood U: Rising Stars on YouTube.
Hollywood U: Rising Stars is free to play.
Sooo, did you think this game looks cool? If yes, Like!