NOTE: this game has been discontinued. Find similar games here: Dancing Games.
What Is HighStreet 5
HighStreet 5 is a free to play online game in which players socialize, dress in the latest fashions and dance together. Players create their own characters and travel around the city along with thousands of other players.
MMO (massively multiplayer online) dance games, like HighStreet 5, allow players from around the world to create characters, dance to exciting tunes and just have a lot of fun. You can talk with other players and see them face to face through video chat.  Unlike other dance games, HighStreet 5 offers many unique features making it the leading social dance game out there.
Game Features
The virtual city allows players to mingle around the city streets and visit fashion shops to try on and buy new fashions. You can choose from a huge selection of fashions from shirts to dresses and accessories from bracelets to sunglasses. The game leans toward handsome boys and pretty girls with the emphasis being "beautiful people".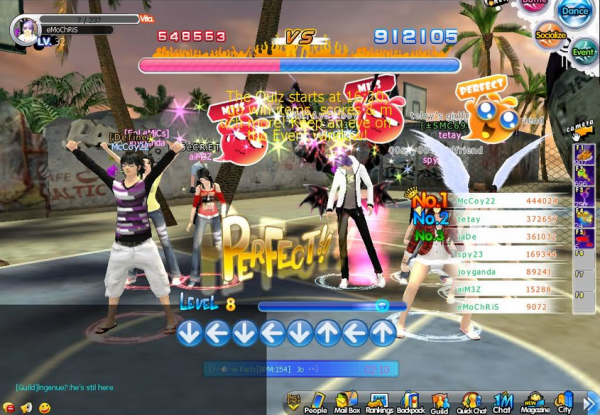 Visit 30-player dance halls to dance the night away that are designed with a variety of themes from punk to rooftop dancing. You can choose to dance alone, or dance with a special someone or even with a group of friends.
The in-game community system allows players to have their own profile pages with their favorite pictures, blogs, videos and so much more. You can visit other players' profile pages and they can visit yours.
The Game
The main idea of the game is to socialize with others and to dance. Music ranges from popular artists like Black Eyed Peas, Britney Spears, JJ Lin, Jacky Cheung and Rain to name a few. HighStreet 5 keeps track of the top music from around the world as well as the feedback from the players and their requests.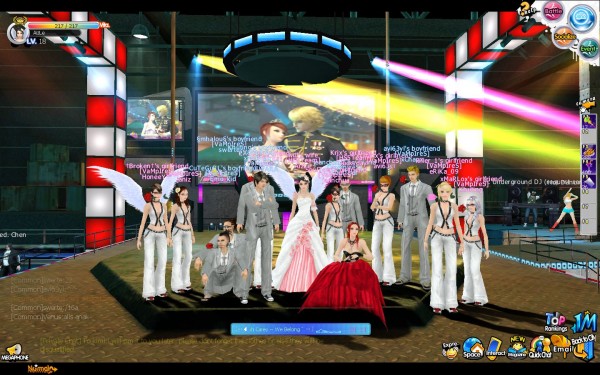 How To Dance
The game consists of pressing directional keys and the space bar at appropriate times. Using numerical keys will allow you to use special items or perform various stunts. There are three modes of dance to choose from: Single (one person), Lovers (two people) or Group (up to 5 people).
Every time you complete a dance, you will earn scores and the better your dancing becomes, the higher your points will grow. Music is broadcasted for the players to dance to and you may also request songs and make dedications within the dance halls.
Purchase Items
Along the way, you can purchase items in the game or by visiting the online web store. Items within the game may be purchased with Cash Points, Scores or a combination of both. Items within the online store can only be purchased with Cash Points.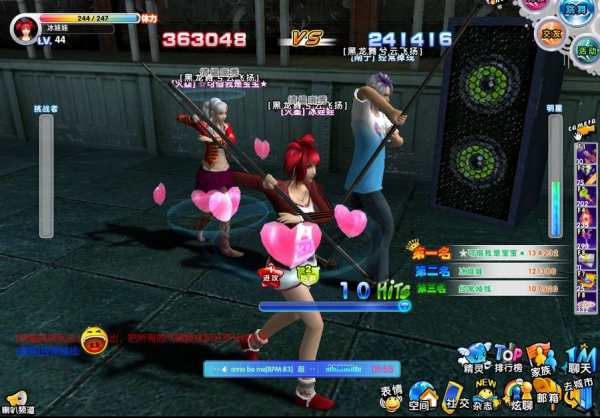 For more screenshots, click here.
Lounge and Relax
If you grow tired of dancing, you can just lounge around with your friends and relax. The game offers a lot of areas for you to visit and walk through. Unlike other games that have restrictions, HighStreet 5 allows you freely roam anywhere, as it is a world in its own and gives you the feeling of the real world.
Overall
HighStreet 5 allows you to step outside the box with rhythm and dance games. It offers you everything possible in terms of socializing as well. This is a great alternative for a real life clubbing experience. This is great if you just can't get out and party or if you are under age. If under age, caution should still be in place as anyone can be behind the character you are socializing with.
Come on in and enjoy hours of great fun and meet other great players!
HighStreet 5 is free to play.
NOTE: this game has been discontinued. Find similar games here: Dancing Games.
Sooo, did you think this game looks cool? If yes, Like!