NOTE: this game has been discontinued. Find similar games here: Chat Worlds.
Hello Kitty Online (HKO), a 2D MMORPG fantasy game that is created from the Hello Kitty series. This is a non-violent game. The main focus is on crafts and resources for those crafts.
Story Line
Hello Kitty and her friends (Keroppi and Badtz-Maru) were put into an eternal slumber. However, they have now woken up to find that there is an evil villain that no one knows.
A little bit of information on how the Hello Kitty works.
You will craft items from the resources you find and gather
There are 35 levels to complete
8 skills are provided to assist you in leveling up
Carpentry
Mining
Planting
Tailoring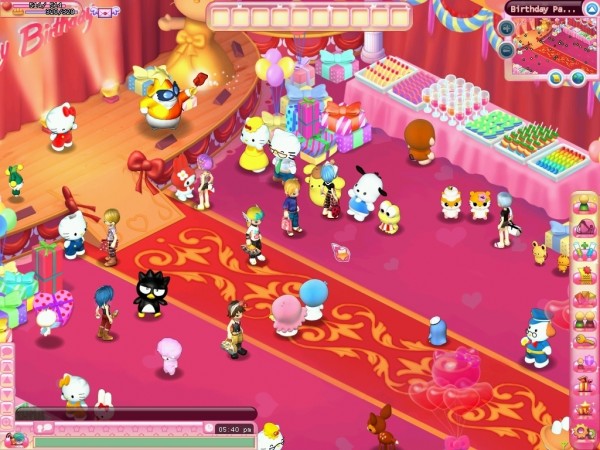 Gathering
Cooking
Forging
Woodcutting
Location
The wonderful magical land of Sanrio. Very bright and colorful. The places that you will visit are London, Paris, Tokyo, Moscow, and Flower Kingdom, and many more beautiful places. You will experience challenging quests and puzzles to solve in your travels.
How to play Hello Kitty Online
Create an awesome avatar that is human. Choose:
Eye color
Gender
Face
Skin tone
Blood type
Hairstyle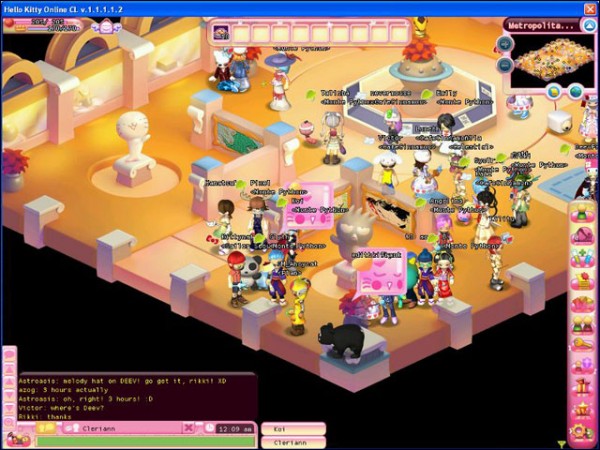 Action included is that of combating with monsters. You can use weapons such as brooms, microphone stands, and flyswatters. As you battle the monster his strength will deplete and become dizzy then eventually pass out! Once the monster is asleep make sure you check him out for anything that will help you on your adventure.
If you run into some trouble there are shortcuts for you to use to check out what you have in your inventory and look at your maps. Be sure to take your time when using the shortcuts. Once you get use to using them you will be able to pull them up with your eyes closed! J It is that simple.
Activities for quests include whacking monsters, farming, chopping and harvesting plants, mine resources, or using your production skills. You can either perform the quests alone or ask a friend to help you out.
Most of your quests will circle around the puppy named Pochacco or the frog named Keropi.
Hello Kitty Online is a very friendly sociable game for everyone to enjoy!  If you have a problem or are stuck on a level ask the more experience friends online! They will be glad to help you out! The more help you receive the quicker you will complete each task.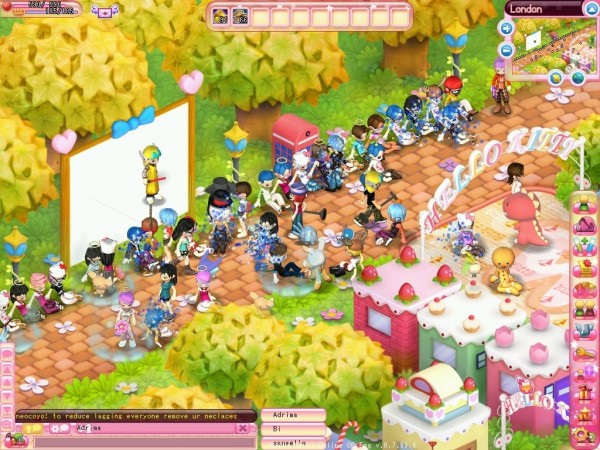 For more screenshots, click here.
TIP: There is a Sanrio Chat box if you need further assistance with game play.
Hello Kitty Online (HKO) is a fun, safe, and enjoyable game for a kid or adult of any age. This game is bright, cheerful, and there is adventure in every level just waiting for you! You will get to meet new friends from different areas in the world and play with your friends and family as well.
Hello Kitty Online is free to join and an experience you will not forget. Come join us today!
Watch more videos on their YouTube channel: Hello Kitty Online on YouTube.
Hello Kitty Online is free to play.
NOTE: this game has been discontinued. Find similar games here: Chat Worlds.
Sooo, did you think this game looks cool? If yes, Like!