Romance gets weird in Hatoful Boyfriend. In a lot of ways, this is similar to just about every romance visual novel out there. You have cute boys, you can flirt with cute boys, and your actions change your story and ending. The difference here is that those cute boys are also pigeons. This comedic take on romance visual novels has you dating and meeting various boys, trying to find the right one for you, and each one is a pigeon. Everyone is a pigeon, actually. Except you. You are a human, going to an all pigeon school, dating pigeons.
Okay, not everyone here is a pigeon. There are other types of birds, too, but the main point is that everyone is a bird. Except you, the human trying to date birds. As the sole human of this all bird school, you do not have many other choices. You are going to meet and flirt with the various birds of the school, all with their own unique styles and personalities. From your best friend to the standoffish rich kid, you are going to find a place in your heart for each of them. Start learning about them, cuddling up, and getting them to warm up to you.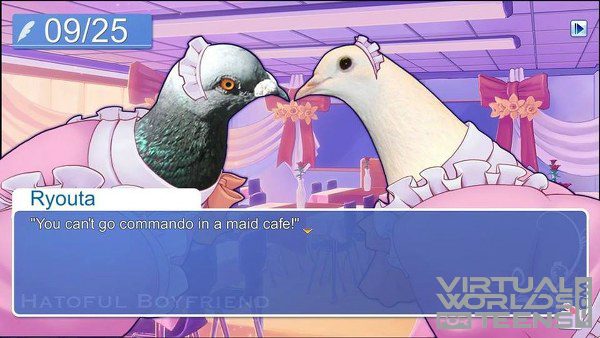 Each character is unique. While your character is faceless and has no real presence, so that you can put yourself into the game, that is not true for everyone else. Love interests, teachers, and random characters you meet all have their own designs. Each bird looks different from the last, and each bird suits the personality.
The character designs do have an option for anime images. There is anime art for characters that will show up when they first do. This gives you an idea of the human appearance of each one, alongside their actual bird appearance. All of them are still birds, of course, but this helps you to humanize them a little more.
Hatoful Boyfriend is full of humor. This is what you would expect from a romance visual novel about birds. The idea is out there and crazy, and humor is the only way to bring it together. The writers and developers did a great job with it, too. Throughout the story, even when it tries to be serious, you will find yourself giggling and laughing at the absurdity. It is not outright comedy, with the humor mostly being the absurdist part about it, but you will laugh nonetheless.
You have multiple paths and endings to take. Whichever boy you want, whichever type of ending you are after, you can get them all. Play and replay to see the full story, explore each character, and see each unique ending to the story. It is, in a lot of ways, your average visual novel, just with this new setting.
For more screenshots, click here.
The graphics are what you would expect to come from a visual novel game, simple but effective drawings that set the scene for the story to be told. The photographs of the birds are nicely done and well integrated into Hatoful Boyfriend.
There is a lot more to Hatoful Boyfriend, too. This game is loaded with content, making it worth hours or days of playtime. Find your favorite and explore the stories hidden in this avian adventure.
Watch more videos on their YouTube channel: Hatoful Boyfriend on YouTube.
Sooo, did you think this game looks cool? If yes, Like!