Happy Pets, a game about owning your very own pet!
Have you ever wondered what it would be like to have your very own dog or cat? Do you know what you will have to do to care of your new buddy? Have you asked Mom or Dad for a "real" pet of your own? I bet they said, "NO!" Come join us at Happy Pets and you will experience what it is like to have a pet and what you will have to do once you take your pet home with you!
Once you follow the easy to read instructions on how to create your Happy Pets account for free, you will be on your way to enjoying a wonderful, fun game and experience the love you will have for your pets!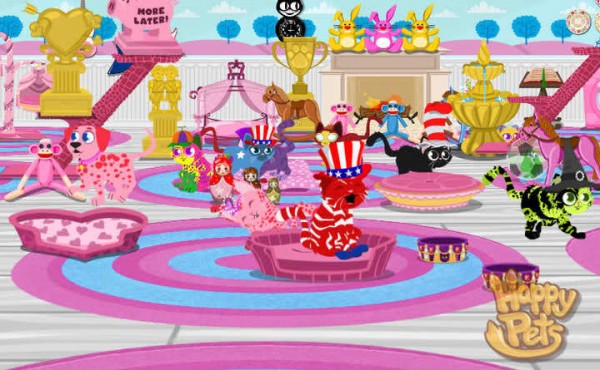 You will have the choice between a cat and a dog. Once you have made your choice you will then be able to decorate the room your pets will be living in! Remember as you play and earn money and experience you can buy more items to play dress up with your new found friends!
Here is a brief list of awesome things that you can use to decorate your new buddies room with. Scratching posts (great for cats), tables, television, lamps, and bedding, and many more!
Make sure you keep enough coins to buy food for your new pet because food is not free!
TIP: To help you keep your pet happy and fed invite friends and family to play along with you. You can go to each friend's room and play with their pets and feed them to earn money for your pet's food and accessories as well as gaining experience.
Once you get everything set up for your pet and you begin playing with him/her you can start to meet new friends on line as well as play with your friends and family. What is so cool is that many new friends that you meet will be from all over the world. But, what is so good about having many friends to play with on Happy Pets is that they can take care of your pet while you are gone!
Your pet will need fed, groomed, and played with to keep your pet happy, safe, and able to be healthy enough to grow into a beautiful adult pet!
Ways to gain coins and experience is to play with your pet, feed your pet, clean the litter and food bowls. You need to keep your pet's room clean.
For more screenshots, click here.
Be sure to feed your pet and keep your pet happy because if he/she is not tended to properly the pet can become sick and slow down. The better you feed and tend to your pet he/she will move faster and be very happy!
This game is a great way for you to experience what it would really be like to have your very own pet at home! You will not only experience the love of your new buddy but you will be able to meet new people too!
Now the adventure begins!
Watch more videos on their YouTube channel: Happy Pets on YouTube.
Happy Pets is free to play.
Sooo, did you think this game looks cool? If yes, Like!