Happy Family gives you the chance to experience the joy, love, and excitement of families in a virtual way. You will be able to interact with other family members, visit neighbors, and care for your own home, all while building everything up and creating an incredible place to live.
This game gives you the chance to complete tasks while beautifying your home, and while making sure that the couple is happy together. When you play with friends and make the most out of what this has to offer, you will be able to find enjoyment and entertainment in everything that you do in Happy Family.
You start out as a couple with two small children. After you do a few tasks, your children will come to stay with you at your home. This is what will give you your complete, happy family, which is what you expected from the name. As you continue to play, more and more tasks will come available to you. These will have you building, collecting, visiting, and planting, along with so much more. The more that you do these, the more that you will earn. This will help you to improve your home and to unlock more of what is available in the store.
When unlocking more items in the store, you will be able to create and do more with your time on the game. This means that you will be able to plant, decorate, and build whatever you can until your home is stunning and makes the neighbors, your friends, jealous.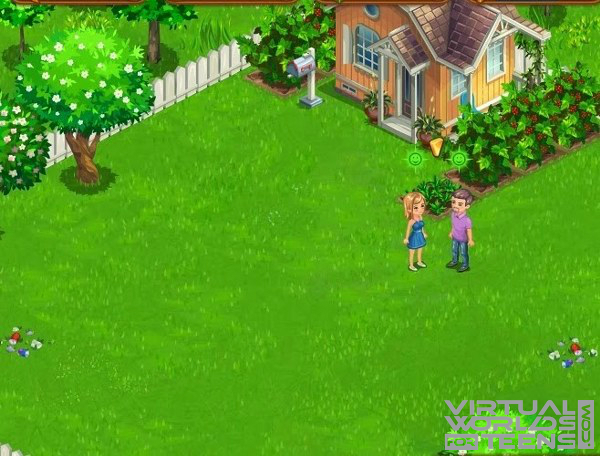 Of course, in order to have more land to do all of this, you are going to need to buy the surrounding land. When you do this, you are going to have to clean everything up. This means trees, rocks, garbage, and plants that are in the way and bring down the overall look. In some cases, you are going to need to tear these down anyway for items.
All of this work will affect you. Doing manual labor is no simple task, which means that this will bring down your energy and mood. To refill energy, you have to wait, buy more, or do available tasks that reward you with energy. This is easy to understand and something that most players are used to doing in Facebook games. For the mood, however, you have to do something a bit different.
For more screenshots, click here.
You have to make the couple care for each other. When one is doing a large amount of work and is decreasing in happiness, the other has to come over and do a command that will make them more cheerful. This is as easy as clicking on the husband or wife and choosing an action.
With so much to do, you are going to have plenty of goals to complete. You will be able to finish off the tasks handed to you as well as your personal goals, like having specific items, a large enough piece of land, or whatever else you want. Everything comes together to create an addictive and entertaining experience for all.
Happy Family is free to play.
Sooo, did you think this game looks cool? If yes, Like!