Being green is difficult but necessary in today's society. To help people to understand its importance and to give you an entertaining experience, you have Green City. In this game, you are going to be running a city while trying to improve it. You want to bring up the population and make money, of course, but you also want to bring everything to a more green state.
You want to clean the place up and give people an environmentally friendly place to live. Doing this will help you to appeal to more people and it will give you the chance to find a lot of success with your city.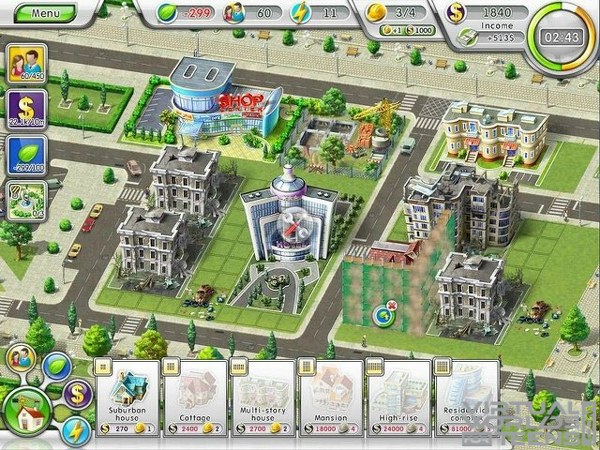 A city being left to rot is no beautiful sight to see. In Green City, that is what you have. Things have gotten so bad that people have been leaving, and have left their trash behind. You have homes where garbage is openly left out for all to see and where the environment is suffering. In order to change things, you are going to need to improve the condition of this city for the better.
You are going to be taking charge and moving everything towards a much more cleaner, environmentally friendly state that will appeal to as many individuals as possible.
Your main focus is going to be cleaning the place up. Complete tasks and work on making this a green city, all while keeping up with everything that you have to do. Work on buildings and try to bring in new ideas that will turn this city around. Doing this will help you to find more success and it will give you the chance to lead a better life for everyone. To see how well you are doing, pay attention to your green score. Look at the earth and see what condition it is in, as well as what you can do to improve it.
You also want to improve things financially. As a city, you are going to need money. This will help you to build more and it will push you further in your goal of having the green city that you have always wanted. To do this, however, you are going to need a bigger population. You can start completing tasks and making your city more appealing to potential new residents.
For more screenshots, click here.
Doing this will help to bring in more people and it will give you a boost as a whole. As more people come in and as you do more with your city, you should see more finances coming your way.
Green City offers a lot of excitement with a great lesson. You are going to be playing for the environment, and doing this means that you have to keep an eye out for what is hurting the earth. Work towards a better future while you improve the city today. While you bring in more people and earn money, you will be able to learn just how important it is to live a clean and environmentally friendly life outside of the game.
Watch more videos on their YouTube channel: Green City on YouTube.
Sooo, did you think this game looks cool? If yes, Like!