NOTE: this game has been discontinued. Find similar games here: Fashion.
Do you love fashion? If you answered yes, this is the game for you! This game is a 2D fashion game made just for girls. (Guys can play too!) This game was created for the fashion person in you.
You create your screen name and character and you can play this game for FREE! You create your very own clothing store and you are your very own clothes designer.
The clothing boutique designs clothing for boys and girls. Use your imagination and create your very own fashion designs. You can mix and match colors and create your very own designs. There are no limits to what you can create with a great imagination. You have a great many designs to choose from.
Now, once you have created your clothing store you will now have two seamstresses who will help you complete each clothing task. You will have a sales assistant that will sell your clothing for you and a mannequin that you can display some of your fashions. Just like a real department store. You can assist customers as they come into your store. This game is suitable and fun for any age group.
There is a catalogue that you can pick and choose what types of tops and bottoms you would like to create for your store. Then you can choose the colors you want the clothes to be. Once you have completed this step you can then give the instructions to your seamstresses and they can create the clothes for you. The more clothes you make you will receive (play) money and rewards if the clothes are done within the time allotted. *Note* some clothes take longer to create than others; while waiting you can decorate your store.
The creation time for the clothes can make that part of the game play a little slower than others but there are many things that you can do in the meantime. Do not forget you can add other stuff to your store. Redecorate like many stores do.
This game is easy to play, easy to change the store items around inside the store and you can change colors when and where you want. You can purchase items for your store from the money earned from the clothes you have created throughout the game.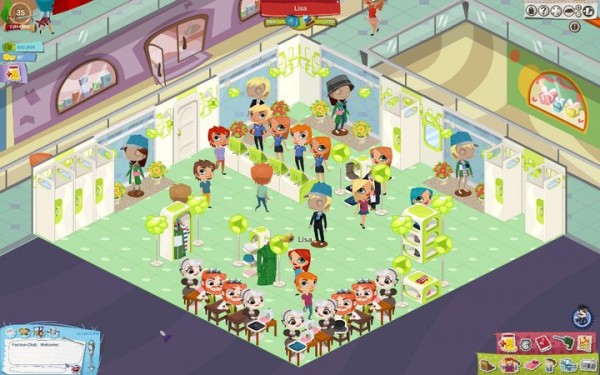 For more screenshots, click here.
However, if you want some special items that are available you can use Facebook credits. This is something that you will have to ask permission from your parents to do. Don't forget to add pictures and plants and maybe even a chair to help decorate your new shop.
This is a great fashion game for all ages. You can create whatever wild fashion you like and create a fun environment for your customers to enjoy in your shop. Enjoy the game and remember to let your parents know this game is fun and age appropriate and has no violence and most of all, it is free to play.
Watch more videos on their YouTube channel: Good game Fashion on YouTube.
Good game Fashion is free to play.
NOTE: this game has been discontinued. Find similar games here: Fashion.
Sooo, did you think this game looks cool? If yes, Like!