NOTE: this game has been discontinued. Find similar games here: Simulations.
What Is Goodgame Café?
Goodgame Café is the brand new time management online game from the people over at Goodgame Studios. Goodgame Café is not only very addictive but a whole lot of fun! Become the culinary delight in your neighborhood!
Open your own Cafe and put your culinary skills to the test! Wear your world-famous chef's hat and create your menus for that day or the week ahead. Shop for tasty, unique ingredients, create wonderful mouthwatering concoctions and watch your business grow.
Put Your Restaurant Management Skills to Good Use
Learn new recipes and unlock furnishings as you level up through the game. Figure out how long meals will take to prepare, so you will always have enough meals available for customers. Design your cafe's interior to fit your theme and make it the most popular place in town. You can also hire your friends and chat with them when they stop by or when you visit their cafes as well.
Your Objective
Your main objective is to open your own Café in this wonderful multiplayer game from GoodGame Studios. Prove your cooking skills by developing unique, tasty dishes from the main course to desserts and yummy refreshments. With the flick of your mouse you will be able to select ingredients from your refrigerator or cook up a special treat on your stove.
In A Nutshell
In this new, exciting and captivating time management game. You are in charge of hiring your staff, creating a diversified menu, buying the ingredients and stocking the supplies needed to succeed as a restaurant owner.
You will be offered innovative game options allowing you to enrich your culinary skills. You will stimulate your imagination and get help in order to design the interior of your Cafe, as well as expand your business plans.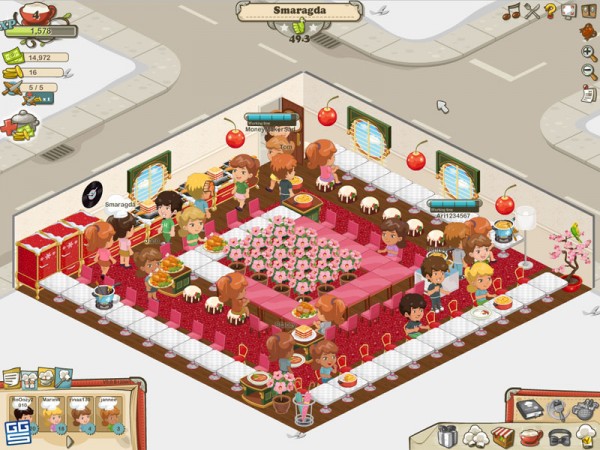 For more screenshots, click here.
Developing, operating and creating an exciting and successful restaurant business is not an easy thing to do. With excellent tutorials set out for you to understand the game basics and learning new ideas along the way, you could very well have the most successful Café in town!
Come join us on Goodgame Café and get in on the fun! It's absolutely Free and absolutely addictive!
Watch more videos on their YouTube channel: Goodgame Café on YouTube.
Goodgame Café is free to play.
NOTE: this game has been discontinued. Find similar games here: Chat Worlds.
Sooo, did you think this game looks cool? If yes, Like!